We're a nation of dog lovers. From Labs to Leonbergers, Poodles to Pugs, we just can't get enough of man's best friend.
Science even backs up our passion for pooches. A 2019 study collating data from 4 million people (including UK citizens) over 70 years of research into the benefits of having a hound in the home found that dog owners are 24% less likely to die early.
More and more choices are available thanks to crossbreeding producing the relatively recent 'designer dog' craze. If you're looking for one of your own, it's a tricky decision – especially when it comes to cost.
Unsurprisingly, there is quite a large price disparity between how much you'll spend per month on a Newfoundland as opposed to a Jack Russel.
Large Dog (i.e. St. Bernard) - £209
Medium Dog (i.e. Husky) - £164
Small Dog (i.e. Chihuahua) - £144
This means that dog owners in Britain spend, on average, £172 per month to look after their four-legged friends. However, if you choose to go for one of the UK's most desirable designer dogs – a mix between two popular breeds to enhance their cute factor – you could end up paying out thousands more across their lifetime.
Prepare to pay over £2,000 for the UK's most popular designer dogs, and that's just in the first year
If you're looking to bring home your very own designer crossbreed, especially one of the most sought after, you're looking at shelling out almost a month's worth of salary (if you earn the UK average wage). That's just for one year. The PDSA project that a dog could cost you around £33,000 over its lifetime.
We've looked at the first-year costs of the six most fashionable designer dogs in the UK to find out how much owning a popular pooch will really set you back.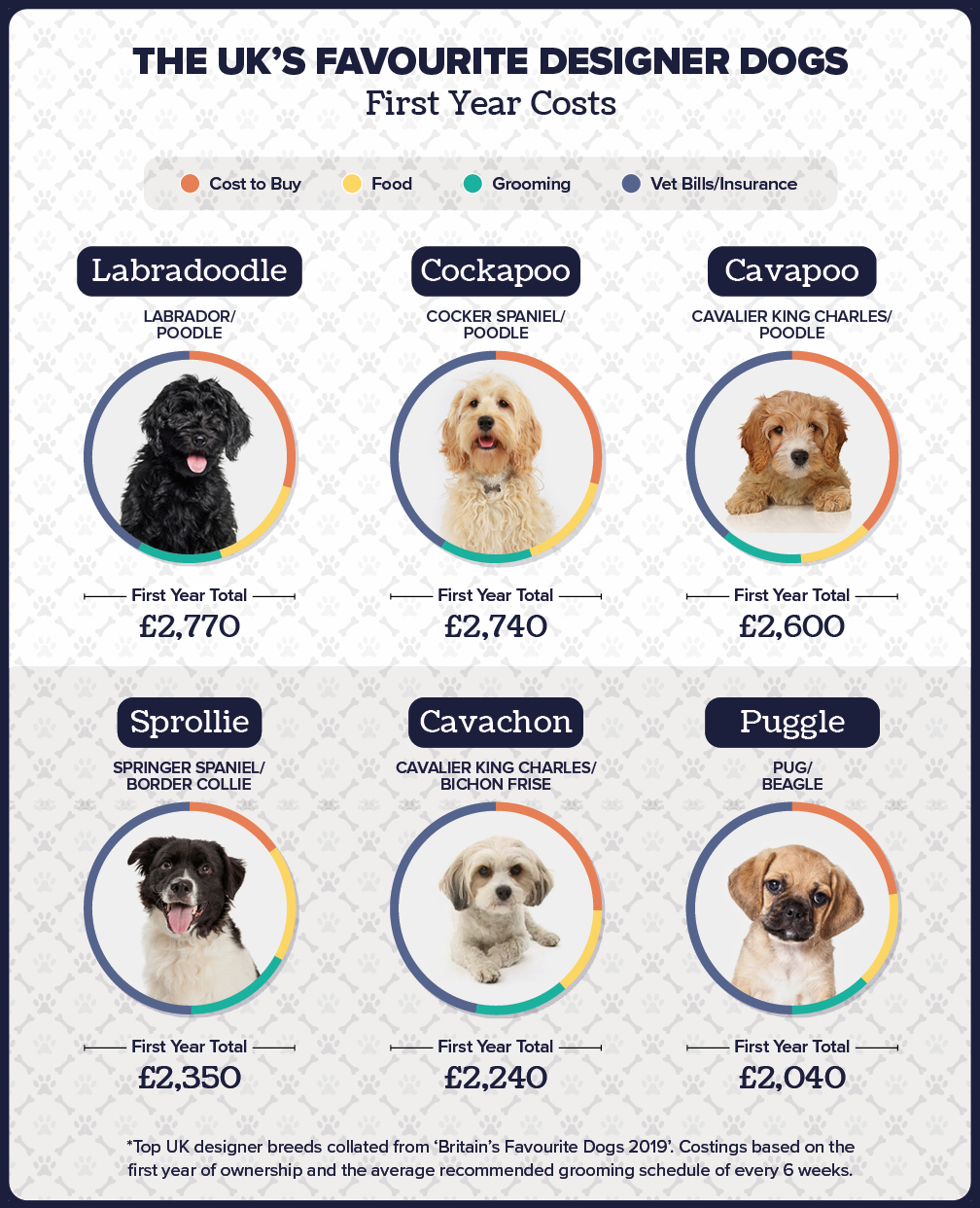 Of the most popular designer breeds, the top two UK favourites – Cockapoo and Labradoodle – are also the most expensive, topping £2,700 in average costs for their first year alone.
If you're looking for something slightly more affordable, you could save £500 by choosing a Cavachon or upwards of £700 with a Puggle.
Other costs which aren't as clear cut to average out include toys, leads and bedding which – depending on your dog – may need regular replacement and could add an extra couple of hundred onto your annual bill.
Top Tip: While it's possible to take on some of the grooming yourself and save a few quid, the PDSA recommends that dog owners check in often with a professional groomer or vet to make sure you're meeting your dog's needs.
Designer dogs top the lifetime expense list of the UK's favourite dogs
Our research has found that three of the most expensive top UK dogs (purebred and designer), are fashionable crosses – Cockapoos & Sprollies – both topping £31,000 in lifetime costs.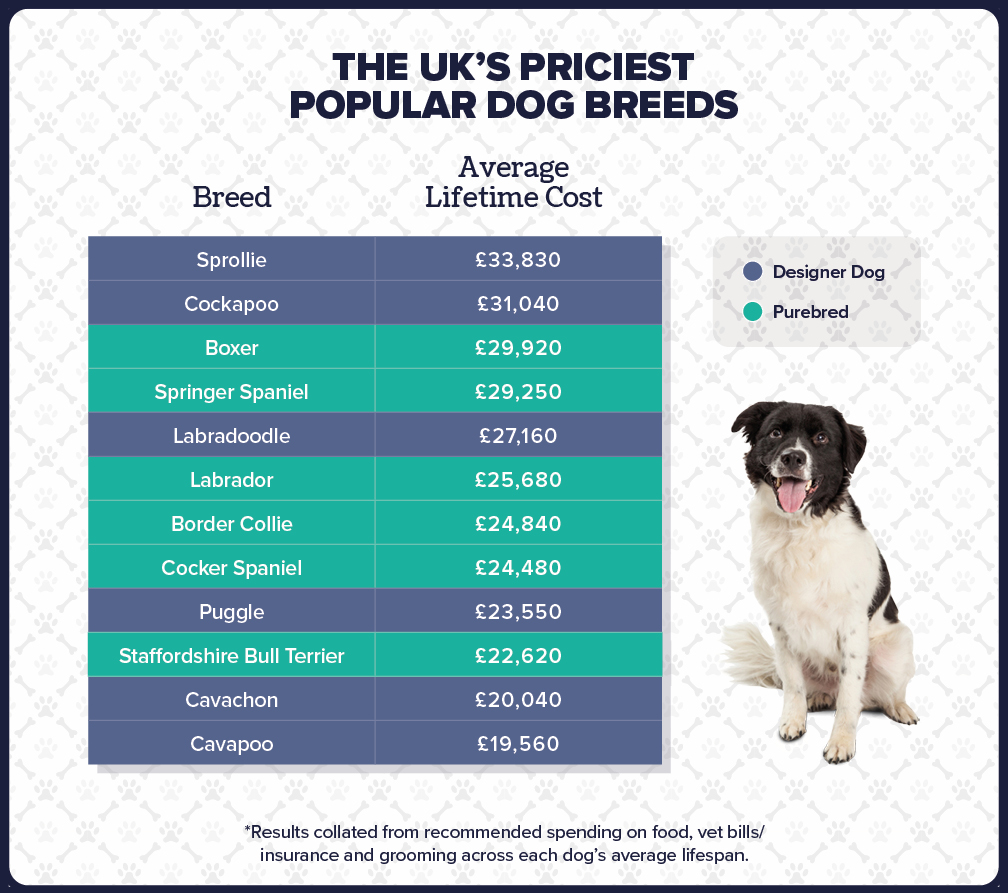 That's not to say you're in for a huge discount when it comes to purebred pooches – Boxers and Springer Spaniels sit on top of the pricing scale for the UK's favourite dogs both costing around the £29,000 mark.
Top Tip: While it's tempting to go straight to breeders and raise a dog from a puppy, consider giving some well-needed love and support to a grateful canine by adopting from your local shelter. This will also save you some money on up-front costs, with the added bonus that your money will be used to help other dogs find their forever home.
Isle of dogs, the UK's obsession with man's best friend
Costs aside, it's clear we're mad about mutts – here are some stand-out stats about the UK's love of dogs.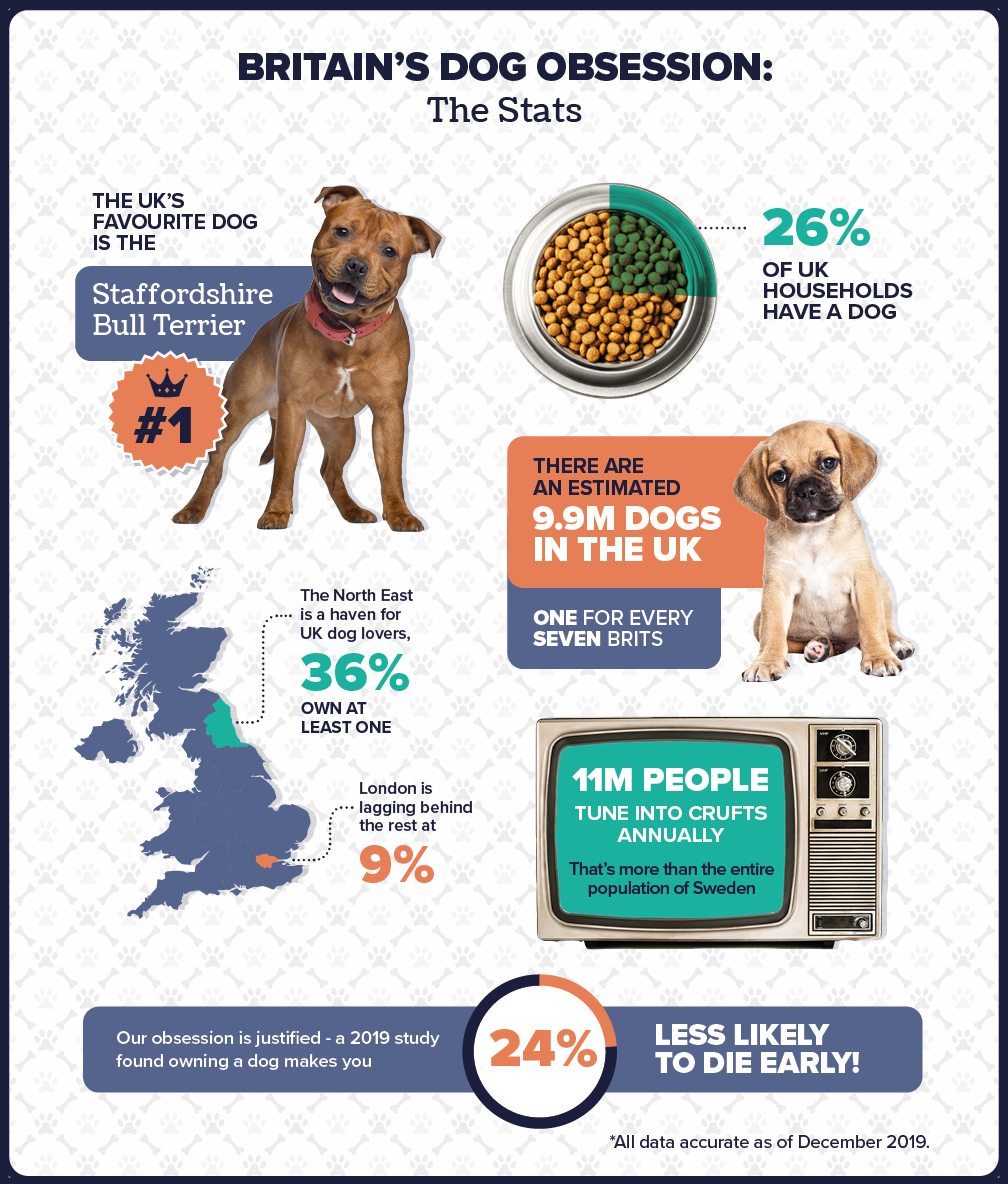 The ongoing debate around designer dogs
While upfront costs on purebred dogs can be higher, it's worth considering that crossbreeding can cause more issues that can hit you in the wallet further down the line. Designer dogs can inherit the genetic defects from both of the breeds they're reared from, leaving them prone to more health issues.
As per the Kennel Club's advice on crossbreeding:
"[We are] concerned that some unscrupulous breeders may be breeding these types of dog simply for financial profit, rather than with the health and welfare of the dogs in mind. This can mean that they will mass produce puppies to meet the latest celebrity-driven trend and will sell them on to people who are buying the dog as a fad rather than based on an educated decision about what is right for them. Buying a dog is a lifetime commitment and they should not be purchased on a whim or to go along with the latest fashion."
"A 'designer' dog is a crossbreed and may prove to be less predictable than a purebred dog. The advantages of buying a pedigree dog include the predictability of specific breed traits including behaviour and temperament, care needs, and their health predisposition. This gives the owner a better chance of understanding the needs of the dog, and which breed will be best for them."
As you can see – although they're gaining in popularity – concerns remain over crowd-pleasing crossbreeds. One such concerned voice belongs to, Wally Conron, the creator of the Labradoodle who now calls it his biggest regret, saying in 2019:
"I opened a Pandora's box and released a Frankenstein's monster."
Whatever your thoughts on the matter, it's crucial that you are sure you're able to take care of whichever dog you choose and educate yourself on their individual needs before taking one on.
For more advice on how to save money on everything from your streaming subscription to a winter getaway, check out the Ocean Finance blog.
Disclaimer: We make every effort to ensure that content is correct at the time of publication. Please note that information published on this website does not constitute financial advice, and we aren't responsible for the content of any external sites.