Damp, rot and woodworm – these are all issues that could damage the structure of your home, so should they sway your decision to buy a property?
Luckily, although many signs of damp and timber damage can appear alarming at first, it's unlikely the problem is as serious as you think.
Having said that, it's worth considering getting a property you're thinking of buying surveyed appropriately, so you're informed of any potential issues that could arise. This can help you prepare for any work that may need to be done, and you could also use the findings as a negotiating platform with the seller. If the problem is serious, the survey could prompt you to walk away from the sale – and save yourself a lot of costly repairs when you move in.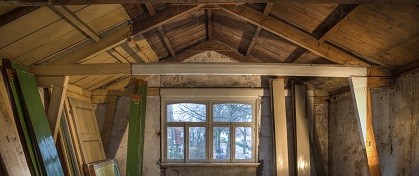 What to look for
We've discussed damp before on this blog, and if it's caught early on you can avoid it causing further damage to your property's woodwork. There are numerous causes of damp, which range from a build-up of moisture in your home to leaking gutters, showers, baths, blocked drainage or damaged pipes.
The key to resolving problem damp is to find the source and repair it. If it's caused by simple condensation, just make sure to air your home by opening the windows as much as possible and having decent ventilation fitted in your kitchen and bathroom.
Wet rot
If left untreated, the issues we described above can create far bigger problems and that's when issues like wet rot and decaying timber can appear. Woodwork including skirting boards, frames and joists become soaked over time as a result. This is likely to be at ground level where walls are damp, or in areas where there are visible leaks.
When wood is sodden it goes soft and soggy like a bath sponge. If your property has a long-term leak, its timber could soon start to rot.
Wet rot thrives in dark areas with no ventilation, like under floorboards, in basements and in the attic. At its worst, wet rot can destroy joints on the ground floor, which could rot all the way through. They may even collapse at the points where they support the floors and join with the outside walls.
However, most cases of wet rot are not this severe as the problem tends to be discovered before too much damage can be caused. Once the cause of the leak is found and repaired, any damaged wood can be left to dry out. Where it is rotten all the way through, sections can be replaced in parts or altogether.
Dry rot
This decay is caused by fungus and has the exact opposite effect to wet rot. The infection caused by the fungus creates a furry-looking blanket on the wood, which sucks the moisture out, leaving it dry. This makes the timber burnt, dry and crumbly.
Because dry rot changes state over time, it is difficult to recognise – which is why it's worth contacting a professional if you spot signs of it.
Dry rot can cause serious damage, because the fungal infection continues to spread where there are damp, moist areas. Because the rot dries out the wood, it makes it weak and brittle and this can seriously damage properties. A surveyor will need to complete an extensive examination of a property to identify just how severe the damage is.
If repairs are needed, the property will first have to be dried out and ventilation will have to be installed. This will prevent the airborne fungal infection spreading further so the wood can be safely treated or replaced. Unfortunately, if dry rot has spread, you may have to strip out floorboards and cupboards to find and treat the source and the infected wood.
Woodworm
These creepy crawlies love damp areas. They lay eggs on wood - mainly in floorboards, under stairs, behind skirting boards and around loft hatches. Once hatched, the larva bore their way through the wood until they grow into full-size beetles - you may spot the boreholes they leave behind.
There are numerous ways to test for woodworm, and you can contact a professional to do this for you. The beetle colony should die out once the damp issue is solved, and the wood can then be treated with insecticide.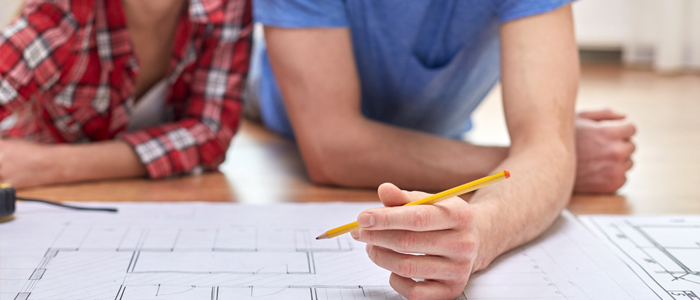 Get a damp and timber survey
There are three types of survey you can choose from before you buy a property. A Royal Institute of Chartered Surveyors (RICS) Condition Report will give you general information about the property and the condition it's in, but it won't be that detailed.
The RICS HomeBuyers Report will give more information on the property and identify if it has any damp or structural problems, but it won't tell you if there's any severe issues hiding under floorboards or in the attic.
The most comprehensive survey is a Building Survey, which will provide you with a more detailed overview of the property's condition, including any hidden issues.
If damp is your only cause of concern, you could get a specific damp and timber survey instead of one of the options above. This report will pinpoint exactly what the problems are and what work needs to be done.
You can visit the Property Care Association to find a Certificated Surveyor in Remedial Treatments (CSRT) to carry out the necessary survey of your home. These professionals specialise in surveying and treating damp and timber issues. You can expect a survey to set you back between £150 and £350, depending on the size of your property. This may sound like a lot, but if it highlights any problems that could affect your home or help you decide whether to go through with a sale, it could be money well spent.
Disclaimer: We make every effort to ensure that content is correct at the time of publication. Please note that information published on this website does not constitute financial advice, and we aren't responsible for the content of any external sites.