When you apply for credit, the lender will check your credit report with one or more of the credit reference agencies. But how does this affect you?
The three main credit reference agencies in the UK – Experian, Equifax and TransUnion – each hold different personal and financial details about you which forms your credit history. They use this information to create your credit score – and all of this is taken into consideration when you apply for credit.
But this is where it gets confusing – there is no such thing as a universal score. Each agency has its own scale… for example, Experian's goes from 0-999; Equifax's from 0-700; and TransUnion's (previously known as Callcredit) from 0-710… and each has its own method of calculating your score. You could even have a 'good' score with one and 'fair' with another.
Whether you're applying for a card, loan or mobile phone contract – the lender will make a decision to approve your application based on your credit history. You could also be offered a higher interest rate or even declined if your credit score is low. That's why it's really important to check your report before you apply for financial products – and don't worry, it's easy to do.
With Experian, your credit score is now available for free through their website. TransUnion works in association with Intuit Credit Karma who offers the same service. And Equifax has teamed up with ClearScore who provides free access to your score and full report.
It helps to know which credit reference agency you have a better score with and which lenders work with who, as this could influence your chance of acceptance.
Which credit agency do most lenders use?
Take a look at which credit reference agencies the UK lenders look at: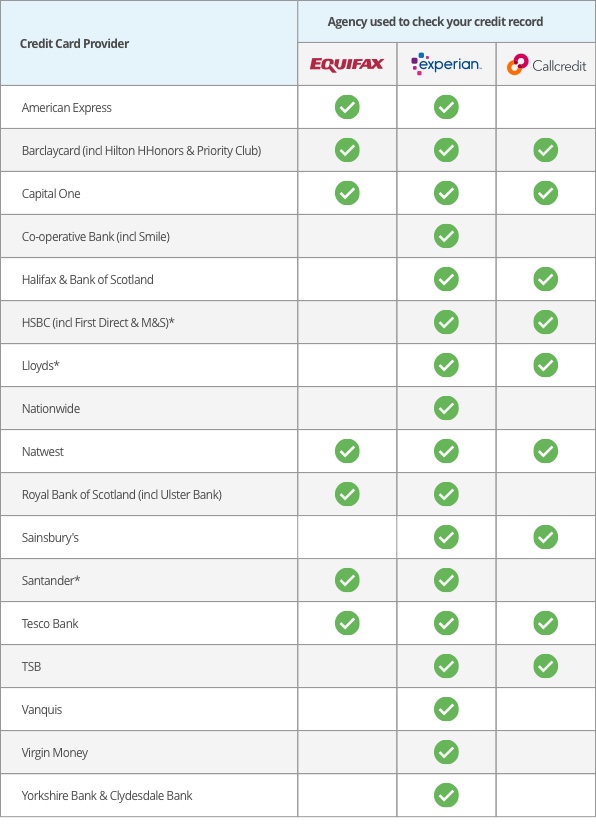 Which credit agency do banks use?
Even if you aren't applying for a credit card, banks could still check your credit report if you're opening up a new account. This could be because the account has an overdraft, so they'll check to see how you manage your debts.

Which credit agencies do mortgage lenders use?
Stepping on the property ladder in the near future? Be prepared for mortgage lenders to take a good long look at your credit history. Mortgage lenders will look at these credit agencies: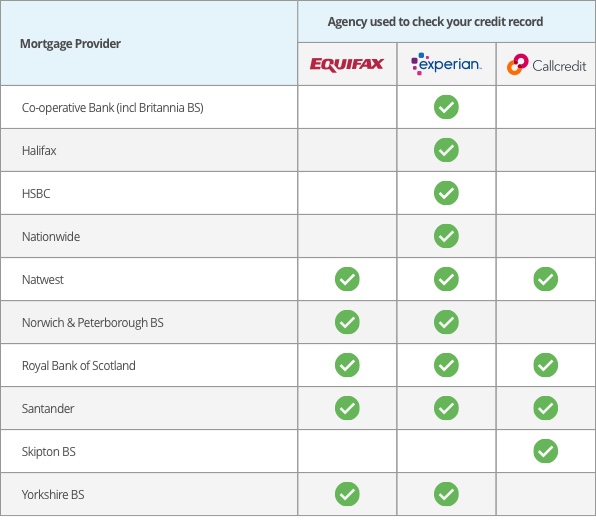 Which credit agencies do mobile providers use?
If you're signing up for a phone contract, you could have your credit history checked. See what credit reference agencies your phone providers could look at: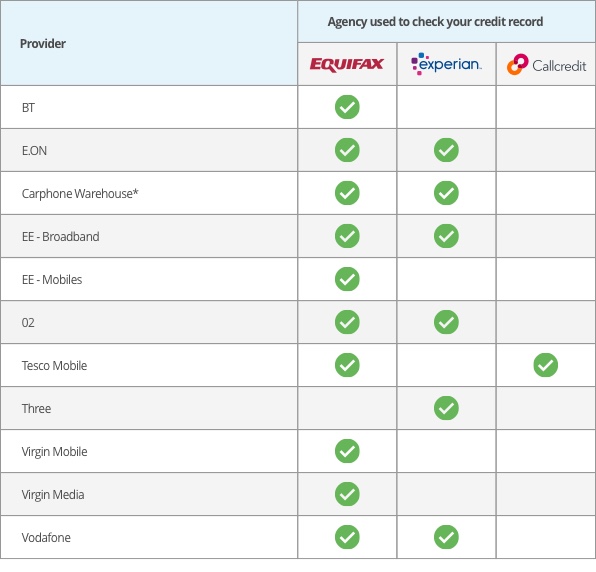 Which lenders use Experian only?
There are some lenders in the UK who only check for information with Experian only. These include; Co-operative Bank, Nationwide, Vanquis, Virgin Money and Yorkshire Bank & Clydesdale Bank.
Which is better: TransUnion or Equifax?
While both agencies should display accurate information, Equifax typically reports to a higher amount of lenders and banks. This means that, although it's worth checking what your score looks like on both, more lenders will check how your report appears on Equifax.
What credit agency does ClearScore use?
ClearScore is a service which displays your credit report and offers deals that suit your credit score. They gather their information from Equifax.
Which credit report is the most accurate?
All of the credit report agencies should only display accurate information about you. If something isn't right on any of them (like an account you don't recognize or the wrong address), it could hurt your chances of being accepted for credit.
That's why it's worth checking all three to make sure all of the information about you and your finances is totally accurate.
If you've checked it and all the information is correct, you could have a thin credit history which means you've never borrowed money before.
* Please note, the lender hasn't officially confirmed this information.
Disclaimer: This information was sourced from a MoneySavingExpert article published in March 2016. For more details on which credit reference agencies your lender uses, please check with them directly.
Disclaimer: We make every effort to ensure that content is correct at the time of publication. Please note that information published on this website does not constitute financial advice, and we aren't responsible for the content of any external sites.