Research has revealed that Brits stay put in a property for an average of 23 years, a big investment in time to match the even bigger upfronts in terms of deposits and fees that are commonplace these days.
A lot can change over two decades, especially property values – we decided to find out how much people can make on a home by simply living in it and keeping it in good condition across the average span of ownership using the Land Registry's price data (2000-2020).
We also uncovered the house value hotspots in the UK based on 20-years'-worth of value change, looking at 50 of the largest British cities where property asking prices shifted upwards the most dramatically and how this differs depending on the type of property you own.
Key Findings:
Brits stay in the same property for just upwards of 20 years - during this time, the average property gains £96,979 in value, over three times the average annual UK salary.
Based on data from 50 of the UK's largest cities, the average rise in property value over the past two decades has been 78%.
Manchester has seen demand for property drive prices up by 143% since 2000, giving it the top spot in our city ranking with London taking fourth place.
If you're looking to buy a property as an investment as well as a home, terraced houses are the best bet for gaining in value – an average of 96% over 20 years.
Greater London tops the regional rankings (+95%) closely followed by East Midlands and Yorkshire (both +87%).
Manchester has seen the biggest rise in property value since 2000, closely followed by Leicester
Our study of property prices across 50 of the largest cities and towns in the UK found that Manchester leads the way in terms of value added at a staggering +143% which equates to an average jump of £105,627 across all residential property types (from £73,910 to £179,537).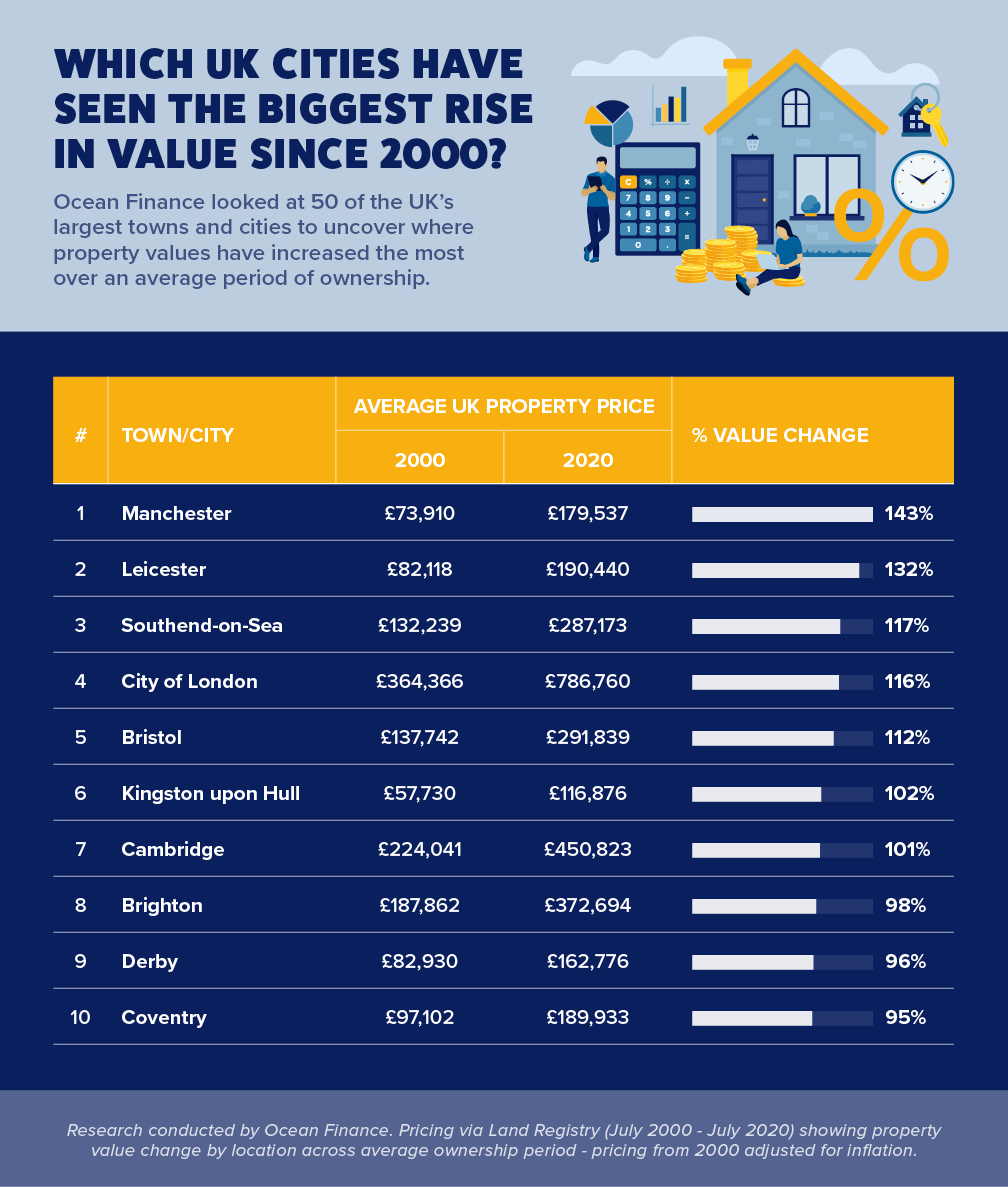 London didn't quite make the top three. Although prices jumped from £364,366 to £786,760 across the average ownership period, the high starting point means that, with a 116% increase – it sits in fourth place below Southend-on-Sea.
One of the bigger surprises to come out of our research is Hull (+102%) narrowly topping Cambridge (+101%) in terms of demand driving up value – living up to their 2017 City of Culture title.
The spread of cities that made our top 10 shows that it's not all about London and its surrounding areas, despite constant talk of the capital's property bubble. It will be interesting to see if Covid-19 impacts the next two decades of property demand and whether larger cities begin to slip further down the rankings as working habits change.
Terraced houses have increased the most in value (+96%), showing a greater demand for this type of property
While many of us will picture a large, lavish detached house when we think of one that will cause bidding wars and push prices upwards, it turns out that it's terraced properties that have seen values pushed up furthest.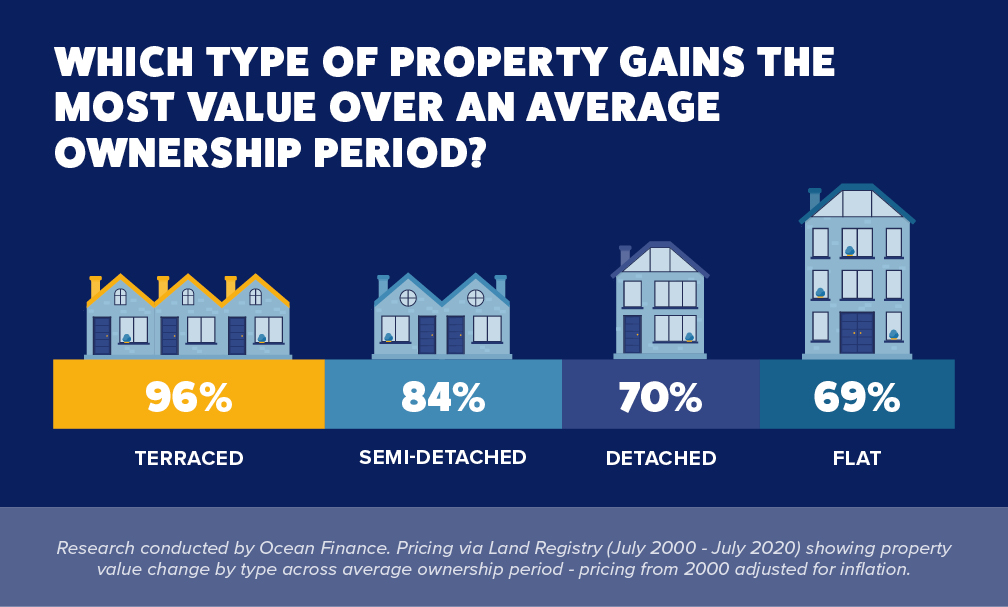 It's interesting to see flats and maisonettes have risen in value at the same rate as detached houses, perhaps showing that – alongside the popularity of generally smaller terraced homes – Brits are looking for functionality over an excess of space.
The UK's best return-on-investment regions revealed
Our research found that, unsurprisingly, given that it's the home of the nation's capital, people living in Greater London have the best chance of making money off their home with an impressive two-decade price rise of 95% - that's a jump of £236,877 in value. Almost enough to buy the average UK house outright.
Followed neck and neck by the East Midlands and Yorkshire (+87%), there's an interesting split throughout the results as to where in the country is seeing demand drive prices upwards.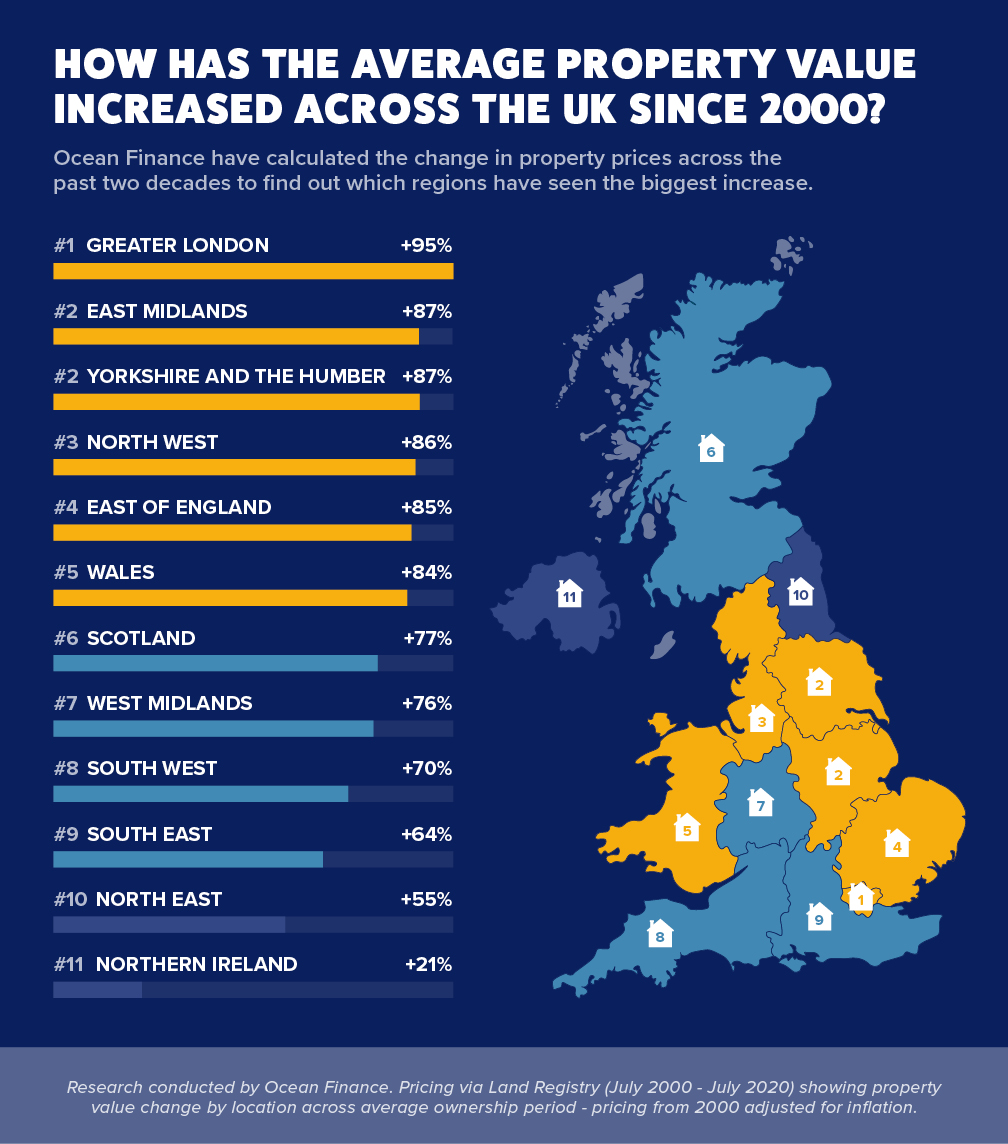 The slowest regions for property value rises were the North East and Northern Ireland, showing that there isn't the same demand to buy up in these areas and meaning that homeowners can't expect the same level of value added when they come to sell as elsewhere.
That aside, it's interesting to see northern and midland areas seeing more of a rapid rise in value than the South East and West which are traditionally considered to be more affluent and desirable as places to live. As with the rest of the country, these two did see property values rise, which is to be expected, but at a noticeably slower rate over the span of an average ownership.
For additional insights into property ownership, keeping your finances in check and plenty more, be sure to explore the Ocean Finance blog.
Methodology: According to research by Zoopla, the average homeowner stays in a property for 23 years. We decided to conduct some research into how much staying in a property for two decades is likely to make you, depending on where you live. This has not only proved that houses are a solid long-term investment, but has also revealed which of the 50 biggest UK cities are the most desirable to live in with the % change in value showing where the largest demand for property has been - driving up prices by substantial amounts over the past two decades. We dug into data via the Land Registry focused on 'All Residential Properties', 'Standard Semi-Detached Houses', 'Terraced Houses', 'Detached Houses' & 'Flats/Maisonettes' looking into the value increase between 2000 (adjusted for inflation to allow like for like comparison) and 2020 for an accurate representation of that length of ownership.
Disclaimer: We make every effort to ensure that content is correct at the time of publication. Please note that information published on this website does not constitute financial advice, and we aren't responsible for the content of any external sites.