Here at Ocean Finance, we know that success isn't just defined by how much cash you have in your account - although that's always a nice bonus!
With so many inspiring Brits on the world stage triumphing at everything from acting to medical research, we set out to learn whether there's a pattern in where in the UK these high achievers are from.
Looking at celebrities, sportspeople and scientists (among others) who've won the most prestigious awards in their field - we've created an interactive map to show you where the most successful Brits are born.
London leads the way, followed by Glasgow
While it may not come as a huge surprise that London produces more than its fair share of successful Brits, we found that the second-place city when it comes to prestigious accomplishments was Glasgow. Followed closely by Birmingham and Manchester, it certainly seems like the rest of the UK can stand alongside the more affluent south when it comes to snapping up accolades.
Our findings are based on a study of 650 of the most successful Brits. The success criteria factors in the most prestigious accomplishments in various fields from politics to music, acting to Olympians and beyond. Each Brit's inclusion was based on their available information (name, DOB, birthplace etc.) to ensure consistency of data across all categories.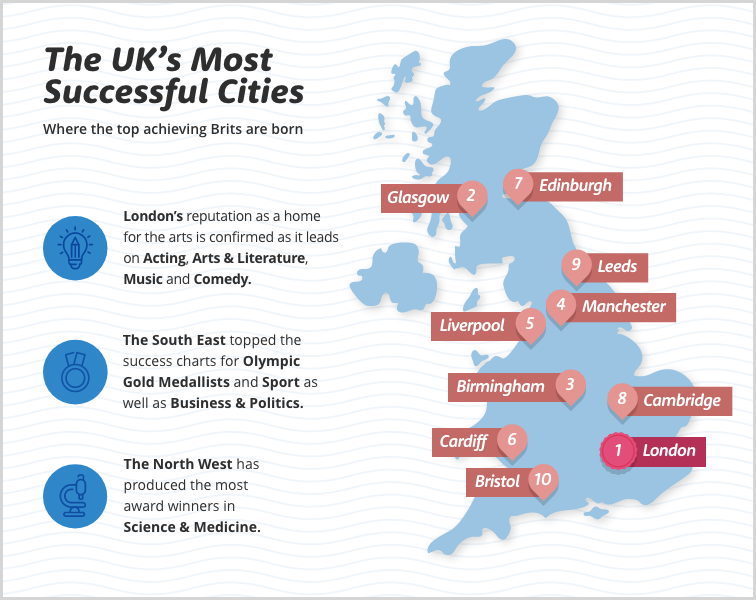 London's notable natives range from actors such as Emma Thompson and Eddie Redmayne to writers like Kingsley Amis and Harold Pinter as well as a wide range of talented musicians from Sam Smith to Mick Jagger.
The most successful UK regions ranked
Now that you know which cities are producing the most successful Brits, here's how all of the regions stack up against each other based on the percentage of successful people from each:
Greater London - 23.3%
South East - 19.9%
North West - 10.3%
South West - 7.9%
Scotland - 7.3%
Yorkshire - 7%
West Midlands - 6.8%
Wales - 4.5%
East Midlands - 4.2%
East of England - 4%
North East - 2.8%
Northern Ireland - 1.2%
For a closer look at a who's who (and where's where) of successful Brits, why not take a look at the full interactive version of our data to learn more about the UK's most accomplished residents.
Sport, business and politics, the South East's specialities
Whether it's football players, rugby pros or Olympic gold medallists, hailing from the South East seems to be a pretty good indicator of success. Kelly Holmes, Steve Redgrave and Greg Rutherford are all famous examples of South-Eastern gold getters.
There's also plenty of top businesspeople, with 10 CEOs from the most recent Forbes 2000 list (UK companies) of largest global businesses including Michael Manley of Fiat Chrysler as well as Nobel Peace Prize-winning politician William Randall Cremer.
The North West: a region of Nobel science and medicine laureates
Winning a Nobel Prize is seen as one of the greatest accomplishments you can achieve. Being born in the North West of England may increase your chances of doing so as it has produced a very impressive line of laureates.
From Sir Joseph John Thompson's studies in physics to Rodney Robert Porter's breakthroughs in biochemistry, there's been a lot of world-changing work carried out in the region.
September birthdays offer an increased chance of success
Another interesting trend that emerged from our research into hundreds of the UK's best and brightest was that more of the UK's top achievers were born in September than any other month, with September 6th being the most common birthday overall.
Want to see where your birth month falls on the success scale? Here's the rundown.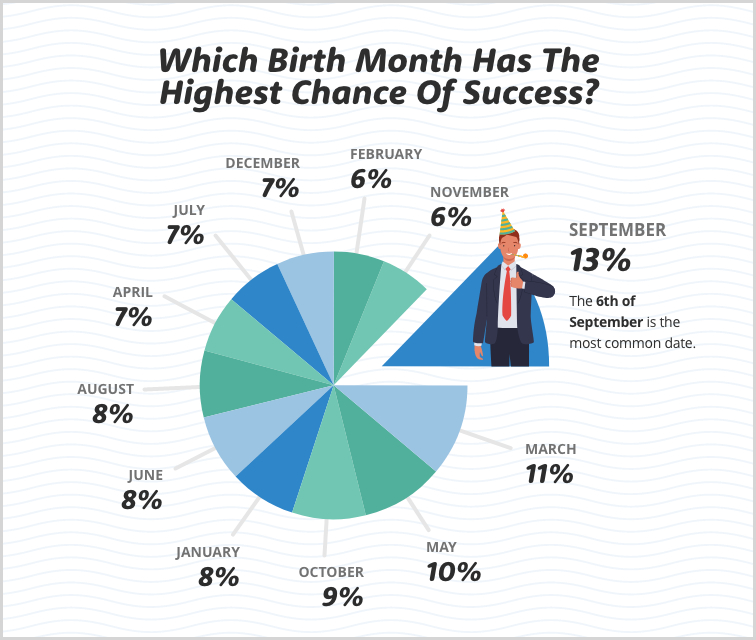 How does your salary compare to the careers of the UK's super successful?
Been inspired to join the ranks of Britain's most accomplished people? Convinced you'll make it as you're from a city that reached our top 10? It's worth knowing how much you can expect to earn while honing your craft.
We've all dreamt about receiving that huge accolade in our dream job whether it's practising an Academy Award acceptance speech in the mirror or believing your doodling skills could take you all the way to a Turner Prize.
However, while the people at the pinnacle of their field receive paycheques to match, you'd be surprised at how underwhelming the average wage for these dream careers actually is while you're grafting your way to the top: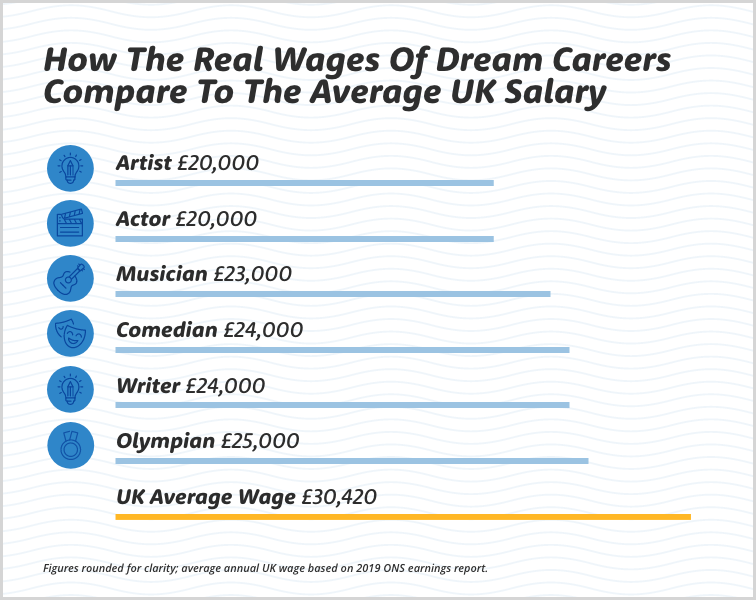 If you do decide to try and add yourself to our list of high achievers and fancy making it worth your while financially, it's a good idea to look into politics – with MPs earning £79,500. But, if even that doesn't excite you, team sports might be the way to go with the average Premier League wage topping £3m at the start of 2020.
Explore our 'Success Map: UK'
Now that you've gotten a feel for our findings, delve in deeper with our immersive map giving you more information about the people in the study and letting you choose the achievements that interest you the most.
There's also plenty more to read on the Ocean Finance blog, like the price of the UK's favourite designer dogs.
Disclaimer: We make every effort to ensure that content is correct at the time of publication. Please note that information published on this website does not constitute financial advice, and we aren't responsible for the content of any external sites.