The first thing to do once you realise you've lost your credit card is report it to your lender.
Your lender deals with this type of enquiry on a day-to-day basis, so they can help to sort you a replacement, make sure you're not stranded without money and determine whether any fraudulent activity has taken place.
Don't panic
Many of us have no doubt experienced that sinking feeling you get when you realise you can't find your purse, wallet or mobile phone. Nowadays, most people in the UK carry some kind of card, whether it be credit, debit, store or loyalty card. We're all guilty of misplacing or forgetting things every once in a while, and although keeping your cards safe and with you at all times is important, sometimes mistakes can happen. Knowing what to do if this does happen is a good way to reduce some of the hassle and worry you'll face if you do lose your card.

What to do
The golden rule if you lose your card is to report it missing straight away. You should be able to find the phone number of your credit card provider on their website or on a recent statement. If you have a smartphone to hand, aim to do it straight away.
When you speak to your lender, try to give as much information as you can about when you last used the card and, if you can, where you think you might have lost it. Your lender should block your card and issue you with a new one. If, after this, you find your lost card or it is returned to you, don't worry; just let your lender know and destroy the card by cutting it into little pieces with scissors.
It may take a few days to receive a replacement card, but you'll have peace of mind that your card isn't being used by someone else.
Meanwhile, if your credit card comes with a mobile banking app, you can use this to track your transactions and keep an eye out for anything unusual – such as purchases you don't remember making. This can help to trace whether the card has fallen into the wrong hands and be a starting point if you find you need to claim back any losses.
What to do if your card is stolen
Similarly, if you know (or suspect) your card has been stolen, you should report this to your credit card provider as well as the police.
The police will take details about the theft and the time and place you realised your card was missing. They should then issue you with a crime reference number. This number is used as evidence for your lender to claim back any money from fraudulent transactions that could have taken place while your card was missing.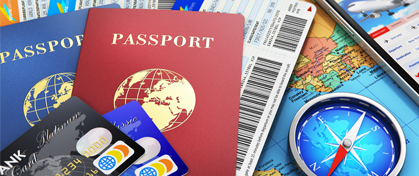 When on holiday
Although many credit cards charge you for spending or withdrawing cash abroad, the upside is that – unlike cash – there's more you can do if you lose your card or it's stolen.
If you lose your credit card while abroad, get in touch with your provider as soon as possible and they should cancel the card for you. They may even be able to send a replacement card to you via courier or fast postal service – but you may have to pay for this.
Look after your cards
A useful last piece of advice is to look after your cards and only carry those that you need that day. Keep your PIN numbers protected and keep them private and secret. If you notice any unusual transactions on your monthly statement, or online, speak to your card provider as this may be a sign of identity fraud.
For more useful tips on credit cards, take a look back at our blog.
Disclaimer: We make every effort to ensure that content is correct at the time of publication. Please note that information published on this website does not constitute financial advice, and we aren't responsible for the content of any external sites.