There are pros and cons to paying for your car insurance both upfront and month by month. In this blog, we'll take a good look at the advantages of each.
For many of us, the cost of car insurance can feel overwhelming. Whether you're in a position where paying for your car insurance in full is an option, or monthly instalments is the only way you can afford the premiums, you might find yourself wondering what the effects on your finances could look like.
Whatever your circumstances, our guide to paying for your car insurance will tell you everything you need to know.
Paying your car insurance monthly
As with most things, there are pros and cons to paying for your car insurance in monthly instalments, so let's break it down.
The positives
Spread the cost
The major benefit to paying monthly is spreading the cost of your car insurance, and this can be particularly valuable if you have hefty premiums to pay. Monthly payments are likely to be more manageable and allow for easier budgeting month to month.
If paying your premium in full would leave you with little left over in your bank account, it might be wise to consider paying monthly to leave yourself a little cushion should you need it in the following 12 months.
Makes insurance more accessible
The second benefit of monthly repayments relates to accessibility. Not everyone is in a position where they can afford to pay a big lump sum, and therefore by spreading the cost over 12 months, insurance premiums become an option for more people.
For most, the increased amount you'd pay over the 12 months is likely trumped by being able to drive at all.
The negatives
Pay more
As mentioned in the positives, paying monthly nearly always costs more than paying upfront. Most insurers will charge interest on monthly payments as well as an additional fee.
Not offered by all providers
The clue's in the title here but some insurers don't offer the option to pay in monthly instalments, so by doing so, you limit your car insurance search. For this reason, you could be missing on some great deals if you're restricted to paying for your insurance bit by bit.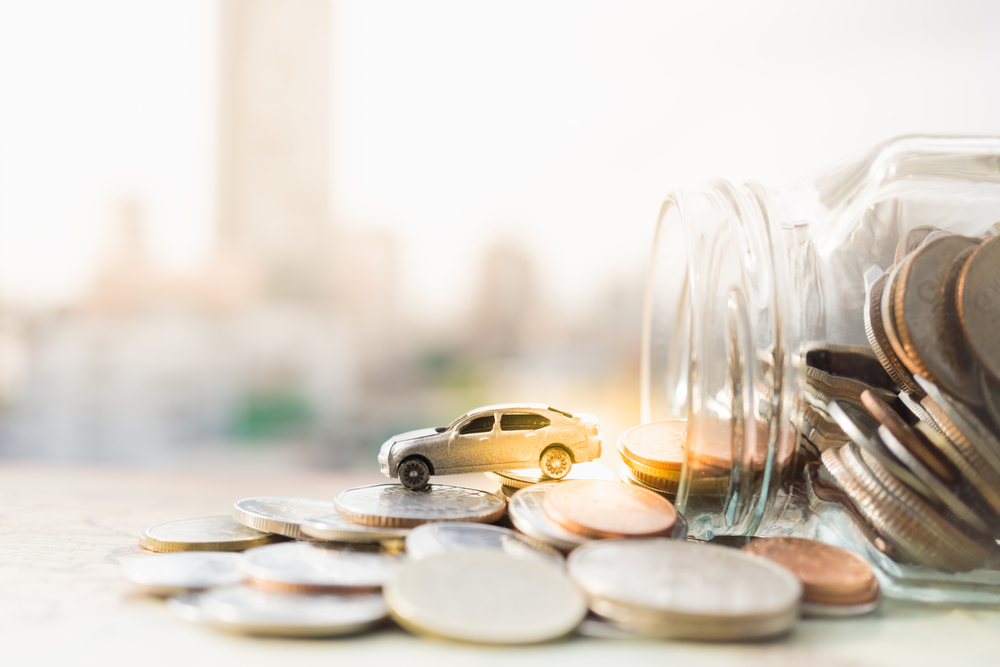 Paying upfront for your car insurance
In a nutshell, paying up front is likely to save you money and give you more, possibly cheaper car insurance deals to choose from. On the flip side, it isn't an option for everybody and could leave you high and dry if your finances worsen in the coming year.
Monthly charges or an upfront payment, what's the price difference?
As we just touched on, one of the main differences between the two is the variance in price between paying monthly and upfront, but what does this look like in real terms?
Deposit
When opting to pay monthly, you'll typically find you're asked to pay some form of deposit on your premium. This is usually around 20% of the annual cost.
The remainder of your premium will be split into 10 or 11 monthly repayments, spread equally.
Interest
When you opt to pay monthly you're effectively taking out a loan for the sum of your policy, so you'll have to pay interest on this amount.
For this reason, the majority of insurers will carry out a credit check and they may decide to set your interest rates accordingly. This means you could find yourself paying higher monthly repayments if you've got a patchy credit history. And, in the worst-case scenario, a bad credit score could lead some insurers to refuse you the option of paying monthly full stop.
Taking into account your credit history, as well as the size of your premium, paying monthly could add up to 20% on to the price of your insurance over a 12-month period.
How this affects your total payment
Let's say you've been quoted an annual premium of £1000, but you wish to pay monthly.
You could be asked to pay a deposit of £200 upfront, and then £96 over 10 months. This means you'd end up paying £1160 overall, rather than the annual premium of £1000.
So, should you pay monthly for car insurance?
Ultimately, it all boils down to your personal circumstances and what works best for you. If you can comfortably afford the one-off payment and you're confident it won't affect your finances going forward, then it's likely to be the best option for you.
If the opposite is true, paying monthly is a good alternative. It might cost you a bit more but it'll suit your budget and finances more realistically.
Price comparison sites
Whether you've concluded that you need to pay monthly or annually, using a price comparison website (like us!) to compare the best deals will help you bag the best deal around. You'll gain access to a whole load of insurance deals and there are insurers who offer very competitive prices on insurance policies with monthly repayments.
Price comparison websites are a great way to save time and search more efficiently and they have access to over 100 potential insurers for you – all you need to do is enter your details and leave the rest to them.
Disclaimer: We make every effort to ensure that content is correct at the time of publication. Please note that information published on this website does not constitute financial advice, and we aren't responsible for the content of any external sites.