Instagrammers have shared over 115 million #health and #wellbeing posts, but are influencers taking advantage of the growing trend?
Instagram #ads and #sponsored posts are encouraging us to buy everything from activewear to supplements and spa days, supposedly to improve our wellness.
We investigated 50 of the top wellbeing influencers with more than 30 million followers to discover how much Instagram promotes buying a product in support of wellness. Plus, we studied how the 'treat yourself' approach puts us in a worse position.
Read on to learn how much the wellbeing hype really costs and find out more results from our survey to see how Instagram influencers can affect our mental and financial health.
One in five wouldn't delete Instagram even if it was harming their health
Instagram is ranked as the worst social media for mental health, according to the Royal Society for Public Health (RSPH). But what's more concerning is that one in five revealed they wouldn't delete Instagram, even if they thought it was affecting their mental health.
75% don't trust influencers to advertise the best products for wellbeing
What's worse, we don't believe influencers have our real interests at heart. Our survey uncovered 75% of people don't trust influencers to promote the best products for their health and wellbeing.
Yet many of us are still buying into the Instagram lifestyle in a bid to improve our wellness. What is it that we are buying most?
80% reveal their finances harmfully affect their mental health
A recent study by the Office for National Statistics (ONS) showed that while the UK's real household income is rising, so are reports of high anxiety, suggesting that earning more money won't relieve the pressure if you're overspending.
Our survey uncovered that a huge 80% admit their finances have a negative effect on their mental health, so spending more on a sponsored wellbeing product isn't recommended if you're worried about money.
One in four would make a purchase based off an influencer's recommendation
With 80% of Instagrammers following a business or brand, it's no surprise we see so many sponsored posts every day. Our survey uncovered that one in four people would buy a product based on an influencer's recommendation.
Influencers encourage spending 30% of disposable income on sponsored products
What's more, one in five admitted they would spend over £100 on health and wellbeing products if a social media marketer encouraged them to. Research shows the average Brit only has £276 of disposable income spare each month, meaning over 30% of spare cash could be spent on an influencer's endorsement.
60% treat themselves even if they can't afford it
With one in three admitting they feel jealous of an influencer's lifestyle, it's easy to overspend if you want to keep up. A shocking 60% of respondents revealed they treat themselves even when they don't have the money. It's clear many of us are going over budget on self-care, with little thought to how this can leave us worse off, mentally and financially.
Mental health charity Mind explains how 'treating yourself' can affect you: "You may spend money to make yourself feel better. Spending can give you a temporary high." But this will put you into debt if you're buying more than you can afford to achieve that short-term feeling.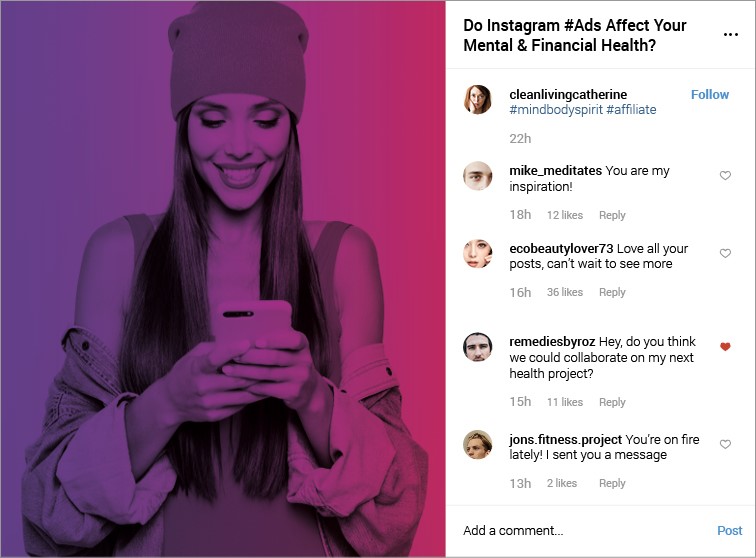 The top wellbeing products of Instagram #ads would cost you £900
We uncovered the average price of popular wellbeing products endorsed by the top Instagram influencers in the health industry.
If you bought one product from each of the six main health industries promoted by wellness influencers – meditation, fitness, beauty, supplements, food and drinks, plus experiences like spa days – it would cost you £900.
Whether it's for fitness subscriptions, collagen tablets or kombucha tea, see the breakdown of how much it costs to keep up with an influencer who supports good wellness, self-care and 'clean' living – providing you weren't getting it for free.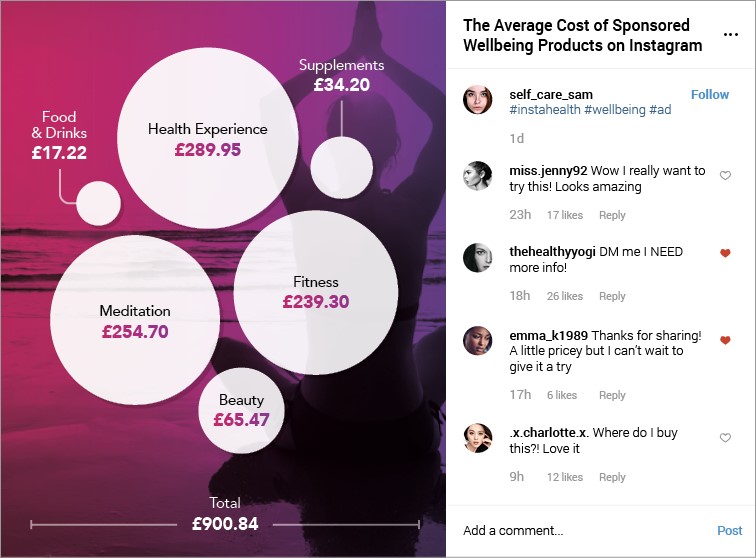 According to the Advertising Standards Authority (ASA), an Instagram influencer would be breaking the law if they 'failed to identify a commercial intent behind a social media post'. That's why we studied posts using hashtags like #ad, #sponsored and #affiliate, giveaways and competitions, plus 'link in bio' campaigns, to find influencers who are paid to promote products, whilst getting them for free.
Here are some of the priciest products we found on Instagram, shared by influencers who are advocates of mental health.
How to spot an influencer's promotional post
If you do have a favourite Instagram influencer and you're not sure if they're genuinely endorsing wellness products, here's how you can tell it's an advertisement:
Promotional hashtags in the caption, like #ad or #sponsored
The brand's logo is clearly visible in the centre of the image
Competitions or giveaways where the influencer thanks the brand
Links to products or stores in their profile or story
The caption is one-sided and guarantees the product's results
Activewear is the most popular health product on Instagram
It turns out that sports bras and leggings are among the most popular wellness items in sponsored Instagram posts. Our survey uncovered that 21% would buy activewear after seeing it promoted by an influencer.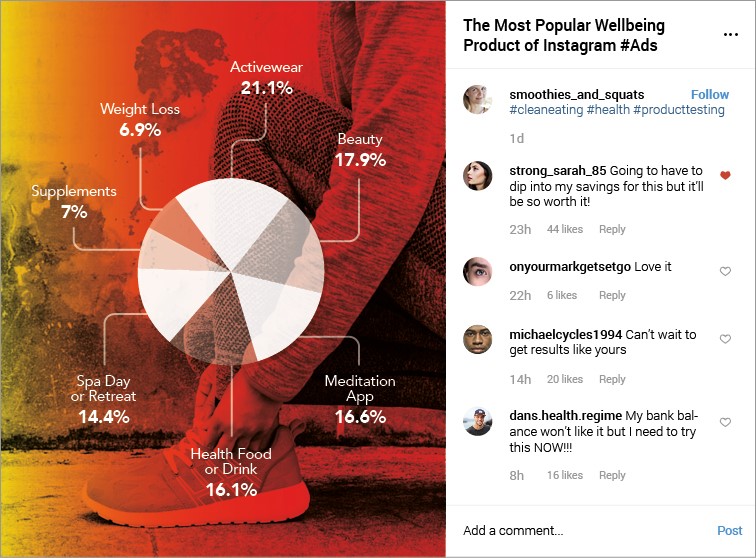 However, activewear isn't the best choice for your bank balance, as we found wellbeing influencers promoting trainers with a hefty £125 price tag – which you can assume they didn't pay, thanks to the 'commissionable' note in the post's caption.
Here are 10 ways you can improve your wellness for free – without contributing towards an influencer's commission from an #ad.
Walk daily to reduce stress and anxiety
Download equipment-free fitness plans from the NHS
Arrange to meet family and friends on a regular basis
Cook dinner from new, healthy recipes
Book time off work and take a break
Make time for breakfast in the morning
Try new hobbies, like painting or writing
Finish a challenging DIY project at home
Volunteer with your local community centre
Don't be afraid to get help from a mental health charity
You might notice these self-care strategies don't involve expensive supplements or pricey beauty products, because you don't need to spend money to really take care of your wellbeing.
It's not just social media that we're spending money on – our beloved TV programmes have a huge impact on our finances too. For more tips and advice on money management, check out the rest of the Ocean Finance blog.
Data correct as of January 2020. All Instagram usernames used in images are fictitious and any similarities are coincidental.
Disclaimer: We make every effort to ensure that content is correct at the time of publication. Please note that information published on this website does not constitute financial advice, and we aren't responsible for the content of any external sites.