Trying to save money doesn't mean cutting out all treats. Learn how you can bring the high street into your own kitchen, at a fraction of the price.
While January is typically the time to kick off habits that involve saving money and eating healthier, you can get started at any time of year. And, we're going to show you how you can combine both healthier food and saving money! Start by cutting out, (or at least cutting down) the household favourite - the takeaway.
It's easy to make your own fakeaway at home, it just needs a little planning. Once you've stocked up on some basic ingredients, you'll have almost everything you need when you fancy a treat. Each recipe can be made healthier by cutting down on the sugar, fat and salt. And you can modify every recipe to suit your own taste and what's in your cupboard.
Here are some simple recipes to start:
Prices included for main ingredients are taken from Asda's website and correct as of 17/12/21.
Chinese fakeaway
Simple Chow Mein (serves 2)
150g egg noodles (50p)
350g chicken fillets/prawns/vegetables/quorn (£2.20 for 350g chicken, £1.90 for 300g quorn)
2 tbsp light soy sauce
1 tsp five-spice powder
1 tsp chilli sauce
1 tbsp cornflour
1 tbsp groundnut oil
1 red or yellow pepper (48p)
200g bean sprouts (50p)
1 spring onion, sliced lengthways
Cook the noodles according to the packet. Drain and rinse under cold running water. Mix in a dash of sesame oil to prevent the noodles from sticking.
Put the chicken/vegetables/quorn into a large bowl and add a splash of soy sauce, five-spice powder and chilli sauce, if using. Mix together, then lightly coat with the cornflour.
Put a wok onto high heat and add the groundnut oil, then add the cornflour mixture and stir fry for 3–4 minutes, or until the ingredients are golden and cooked through. You'll need more time for chicken than vegetables.
Add the sliced pepper and stir fry for 1 more minute, then throw in the bean sprouts and spring onion and stir fry for just 30 seconds before adding the cooked noodles and mixing all together.
Pile onto plates and add a drizzle of sesame oil, along with soy sauce and black pepper to taste.
Easy egg fried rice (serves 2)
Heat a little oil in a wok or frying pan and add 250g cooked rice. Make a hole in the middle then pour in two beaten eggs and quickly mix as the egg starts to cook. Coat the rice with the egg mixture. Season to taste.
Burger fakeaway
Fake a Big Mac (serves 4)
1lb lean mince beef (£2.89)

1 tsp salt

cooking oil or spray
Mix the beef and shape into four burgers. Heat a frying pan on medium heat and brush or spray with oil. Sprinkle half the salt over the burgers and cook for around 5 minutes. Flip them over, sprinkle with the remaining salt and cook for another 5 minutes.
Homemade burger sauce
4 tbsp fat free Greek yoghurt or light mayonnaise

1 tsp tomato puree

½ tsp mustard powder

¼ tsp paprika

¼ tsp garlic powder

¼ tsp onion powder

pinch of black pepper

couple of slices of gherkins, finely diced
Combine all sauce ingredients and mix well.
Serve the burgers in a lightly toasted bun with the sauce, and toppings of your choice from lettuce, onion, cheese slices, tomatoes and gherkins.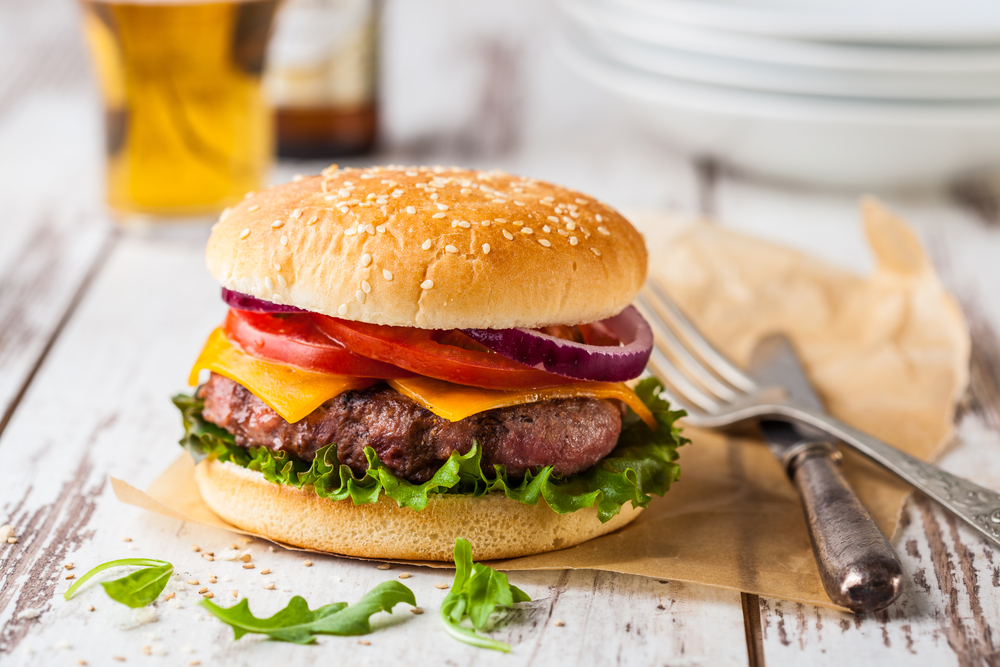 Fish & chips fakeaway
Homemade battered fish and chips (serves 2)
2 x 200g skinless white fish fillets of your choice, equal size (£4 for two Extra Special cod fillets)

600g potatoes cut into 1cm wedges (75p)

approx 500ml sunflower oil (58p)

50g plain flour

25g rice flour or cornflour

paprika

½ tsp salt

¼ tsp baking powder

large pinch bicarbonate of soda

150ml beer, lager or sparkling water

300g can of mushy peas (40p)
Toss the potato wedges in oil and spread in a single layer on a baking tray. Bake in a preheated oven at 220°C or 200°C (fan) for around 35 minutes - give them a turn half way through.
While the chips are cooking, make the batter by mixing the flour, cornflour, baking powder, bicarb, salt and a generous pinch of paprika. Make a well in the middle and add the liquid of choice, then combine until the batter is thick.
Heat enough oil to about half the depth of a deep pan or wok, it's at the right temperature when a piece of bread sizzles and browns in about 30 seconds (around 190°C if you have a thermometer). When the oil is ready, season each piece of fish, coat it in the batter and place it gently in the oil. Cook for around 3 to 4 minutes until golden and cooked through.
Transfer the cooked fish to some kitchen towel to drain, and keep warm while you cook the next one.
Serve with the chips, mushy peas and garnish it with lemon wedges. Don't forget the salt, vinegar, and ketchup.
Tartare sauce
For a quick tartare sauce, combine 200ml mayonnaise with a squeeze of lemon juice, 3 tbps each of capers and chopped gherkins. Add fresh parsley, salt and pepper to taste.
Indian fakeaway
Chana masala (serves 2)
1 400g can chickpeas, drained (31p)

1 400g can chopped tomatoes (45p)

1 large onion

2 garlic cloves

5cm fresh ginger or dried ginger

1 tbsp coconut oil

1 or 2 green chillies

½ tsp ground coriander

½ tsp ground cumin

1 tsp ground turmeric

1 tsp garam masala
Bring the chickpeas to boil in 400ml of water, then take off the heat and leave to soak.
Chop the onion with the garlic, ginger, and chillies. Warm up the coconut oil in a pan then add the onion mix and cook gently until softened. Add all the spices, with a little of the chickpea water. Stir and cook for 1 minute.
Add the tinned tomatoes and a dash more water if it seems dry. Leave to cook for 5 minutes. Finally, add the chickpeas and bring to a simmer for around 15 minutes. Stir occasionally.
Finish off with fresh coriander and an optional squeeze of lemon juice.
Quick 3 ingredient naan bread (serves 6 to 8)
Combine 260g self-raising flour with 200g greek-style yogurt and ½ tsp salt. Mix together to form a ball of dough, then turn it out onto a floured surface and roll or press out. Divide into six to eight equal sized portions, then shape into a teardrop shape.
Cook in a non-stick saucepan on medium heat for 2 to 3 minutes each side.
Optional: brush the naans with melted butter to finish them off, sprinkle with coriander, or add your own ingredients during cooking such as minced garlic, chillies, softened onion, or cheese.
Fried chicken fakeaway
Healthy breaded chicken (serves 2)
2 chicken breasts (£2.20)

25g panko breadcrumbs, or wholemeal breadcrumbs (45p)

1 tsp oregano

1 tsp chilli powder

1 tsp ground sage

1 tsp basil

1 tsp pepper

2 tsp salt

2 tsp paprika

1 tsp garlic powder or salt

2 eggs
Heat oven to 180°C. In a large bowl, mix the breadcrumbs with the seasonings. In another bowl break the eggs, and whisk with a fork for 30 seconds.
Dip the chicken in the egg mixture, then the breadcrumbs. Do this twice for each chicken breast.
Place on a baking tray lined with baking paper or sprayed with cooking oil and bake for around 25 minutes, or until chicken is cooked through.
Serve with homemade chips and coleslaw.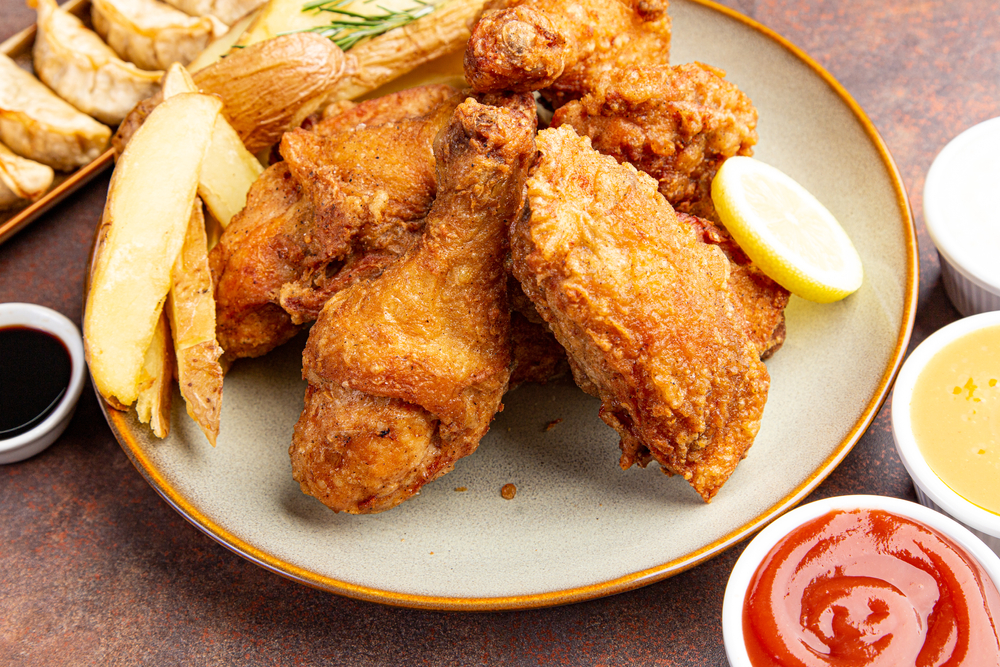 Kebab fakeaway
Simple veggie kebab (serves 2)
1 block halloumi cheese (£2)

2 tbsp mayonnaise

½ tsp parsley

1 or garlic cloves, crushed

2 pitta breads or wraps (15p)

salad - chopped red onion, tomato, cucumber
Make the garlic mayonnaise by combining the mayo with the parsley and garlic. Season to taste. Lightly cook or griddle the cheese until browned on both sides.
Spread the garlic mayo onto the bread, top with salad and then the cheese.
Modify by subbing the cheese for cooked quorn pieces or meat strips of your choice. If you want some heat, add some homemade chilli sauce.
Easy kebab chilli sauce
400g can chopped tomatoes (45p)

2 tbsp ketchup

1 small onion, chopped

2 garlic cloves, finely chopped or grated

1-4 red chillies, chopped

pinch of sugar

1 tbsp white wine vinegar or cider vinegar
Add all ingredients to a food processor and blitz until combined. Store in a clean jar in the fridge for up to 2 days. Can also be frozen if consumed within 3 months.
The joy of making your own fakeaway is that you can experiment with whatever you have to hand and adapt the recipes to suit taste and dietary requirements. Get the kids involved as well and turn it into a fun family activity.
Read on to find out how to make lunches the kids will love for under £1.
Disclaimer: We make every effort to ensure that content is correct at the time of publication. Please note that information published on this website does not constitute financial advice, and we aren't responsible for the content of any external sites.