Scammers are always on the lookout for quick, easy ways to get people to hand over their details. It's an issue most of us are aware of but one that many don't take as seriously as they should.
To get an up-to-date view on the issue, we submitted a Freedom of Information (FOI) request to the National Fraud Authority (NFA) and surveyed 1,000 Brits to find out their views on how financial fraud is handled, as well as what they're doing to keep themselves safe.
KEY FINDINGS:
There were 1,467,962 instances of fraud reported between 2018-2020 with a 12% rise in the past year alone according to figures from an FOI we submitted to the National Fraud Authority.
1/3 of those who shared with us how much they lost to fraudsters said it topped £1,000.
Only 8% of Brits think enough is being done to stop financial fraud, with 54% saying they don't even trust that a scammer would be caught if the incident were reported.
However, 56% admitted that they aren't doing anything or learning more to protect themselves from the most common financial scams.
2/3 of the people surveyed believe that Covid-19 has led to more opportunities for financial scams.
1/3 of reported financial fraud incidents cost over £1,000 each
From April 2019 to March 2020 - 774,541 cases of fraud have been reported, 12% more than the previous year (693,421) according to the data we uncovered following our FOI request to the NFA. This data combined figures from Action Fraud, Cifas and UK Finance.
With greater opportunities for scammers willing to take advantage of 2020's uncertain times, and confusion in public safety messaging giving rise to Covid-specific scams, it's no wonder Brits are reporting large losses to financial crimes.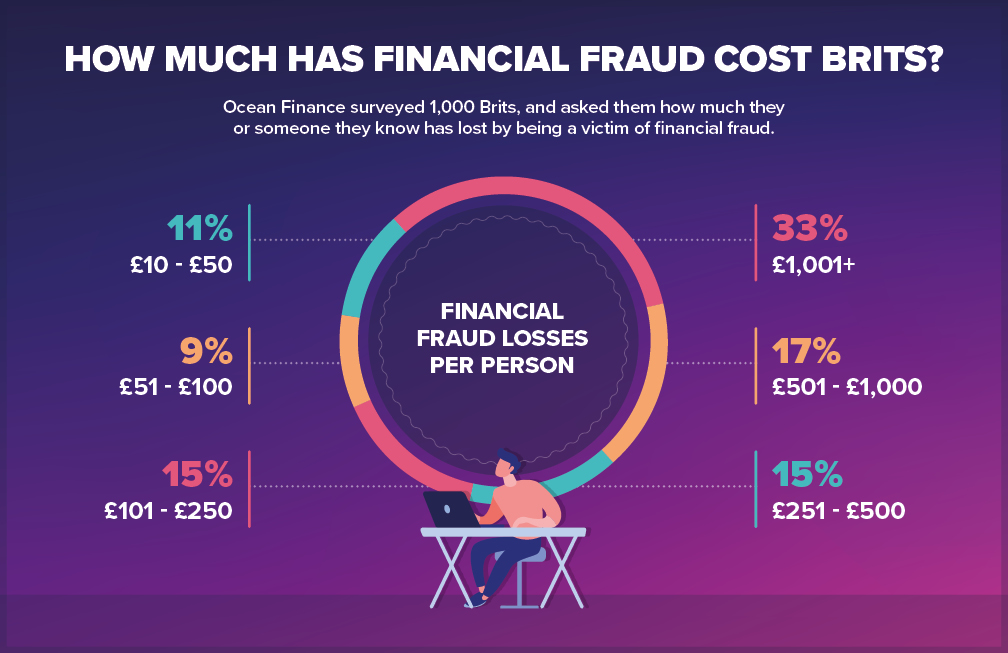 Our survey asked Brits whether either they or anyone they knew had been the victim of financial fraud. Although 20% of those who were comfortable to share their losses reported that they were scammed for £100 or below, there seems to be a worrying trend towards higher amounts being stolen.
While losing any amount of money to scammers is an upsetting experience, the fact that 1 in 3 (33%) people admitted that either they or someone they know lost upwards of £1,000 means that it's not just a case of a few quid here and there. It could be a life-changing amount for many.
Some respondents who didn't report a loss may not even be aware they've been targeted. Our study uncovered that 1 in 8 (12%) people aren't even sure whether they have been the victim of fraud or not.
This makes the fact that many Brits say they aren't taking preventative measures even more concerning.
56% admit they're either unaware of the common financial scams or aren't taking steps to avoid them
To find out how prepared we are to recognise and avoid financial scams, we asked Brits about some of the most reported fraud methods as part of our survey.
How clued up are people on these approaches, and are we taking enough responsibility to protect our information? Judging by our respondents, there's still a long way to go.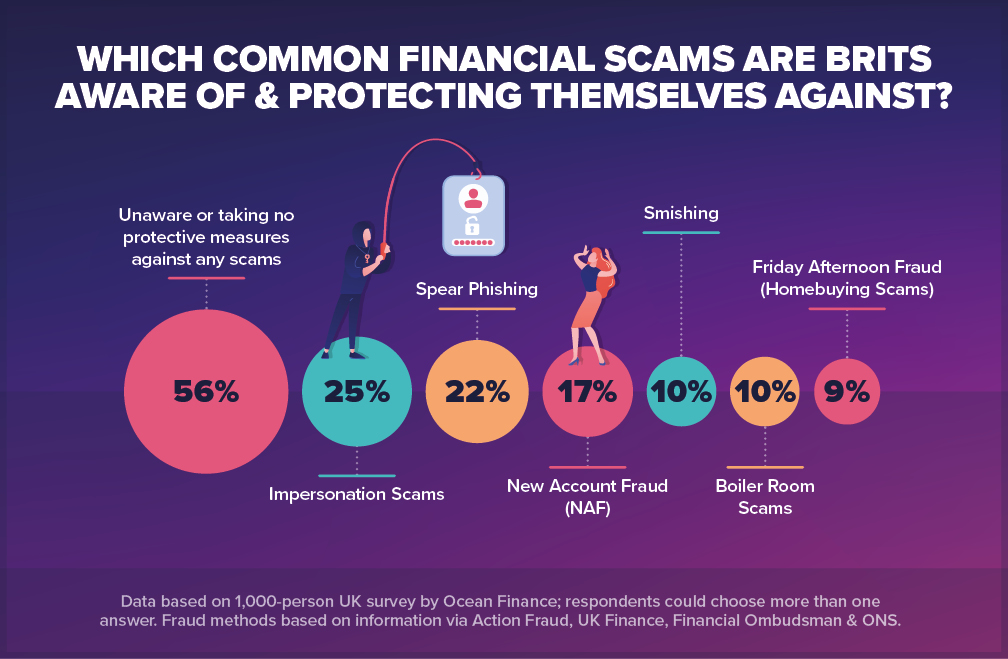 For those that want to learn more, and to offer some context into how damaging fraud can be - here's some more information about the scams mentioned and how they work:
Impersonation Scams: One of the more common scams, this involves a fraudster getting in touch and pretending to be from a trusted source (e.g. the police or your bank) to persuade you to hand over details. UK Finance has reported that, following an 84% rise from the previous year, there were 15,000 cases reported January to June 2020 with an estimated £58m lost.
Spear Phishing: A more targeted version of wider 'impersonation scams', this usually involves emails which contain a certain level of information you wouldn't expect fraudsters to have, lowering your guard and making you more likely to share personal data.
Smishing: Like 'phishing' but using SMS as opposed to emails (e.g. fraudulent messages from your bank asking for your logins to 'unlock' your account).
New Account Fraud (NAF): A scam where fraudsters use your details to open a new bank account, with the objective being to max out the credit limit as soon as possible before vanishing. This often leaves the victim caught up in legal and financial trouble whilst the case is resolved.
Boiler Room Scams: A classic "too good to be true" scam where victims are cold-called about a sure-fire way to make money quickly (e.g. stocks or investments) and are pressured into making an on the spot decision about transferring money. In 2018, an FCA investigation led to the arrest of 5 people who'd conned £2.8m from unsuspecting members of the public.
Friday Afternoon Fraud: A more specific yet widely reported form of fraud where scammers target the email addresses of solicitors (usually on a Friday due to higher rates of mortgage fee transactions on that day) to trick them into sending buyers' money to alternative accounts. This can lead to individual losses in the tens of thousands and huge disruption in property chains.
38% would send money after an email request without verifying they know the sender
As part of our survey, we conducted a study on how seriously people take the risks associated with one of the most common approaches to fraud – 'phishing'. We asked our respondents what checks they'd carry out if they received a request for money via email from a seemingly trusted source.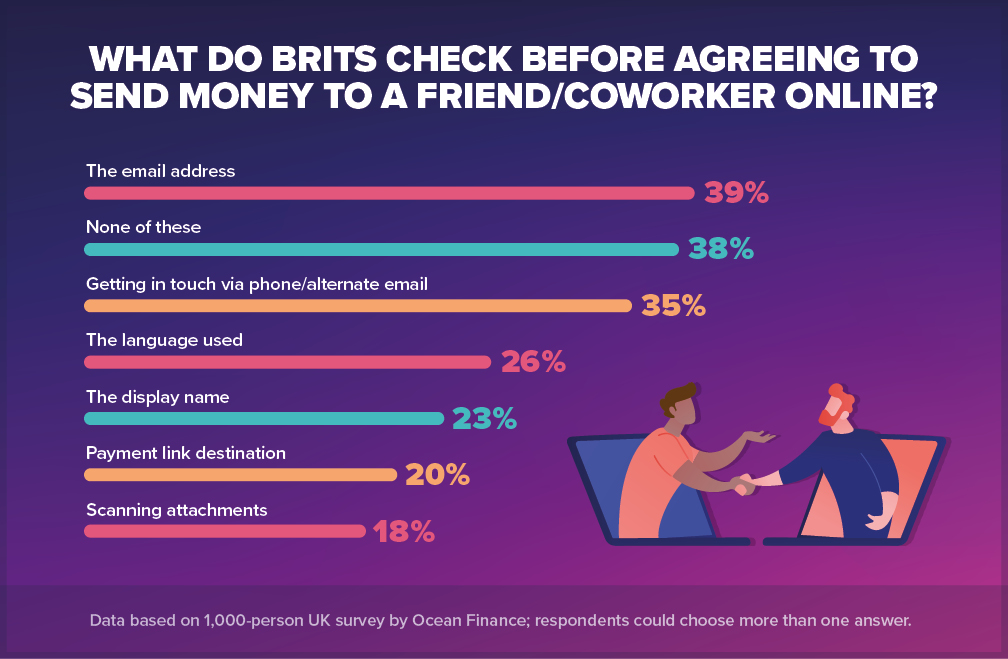 Despite it being the highest scorer, only 2/5 (39%) of respondents said that they'd take the time to check the email address of someone asking them for money. Even worse, 38% of Brits surveyed claimed they wouldn't check anything before parting with their hard-earned cash.
The lower two scorers, namely making sure that the 'payment link' and 'attachments' are valid should be much more of a priority as these are the main entry points for spyware – giving scammers a clear path to the personal data you keep on your device.
While it's good to see a strong percentage (35%) for getting in touch via other means to check (e.g phoning the person supposedly making the request), it's shocking that so many Brits would be happy to take a request for money via email on faith.
2/3 of Brits believe the pandemic has led to increased financial fraud, with Covid-related scams worrying them most
Using information collated from our FOI to the NFA, UK Finance, the Financial Ombudsman Service and the ONS, we picked out a combination of both new and established but growing fraud methods to see if any of them were on people's radar.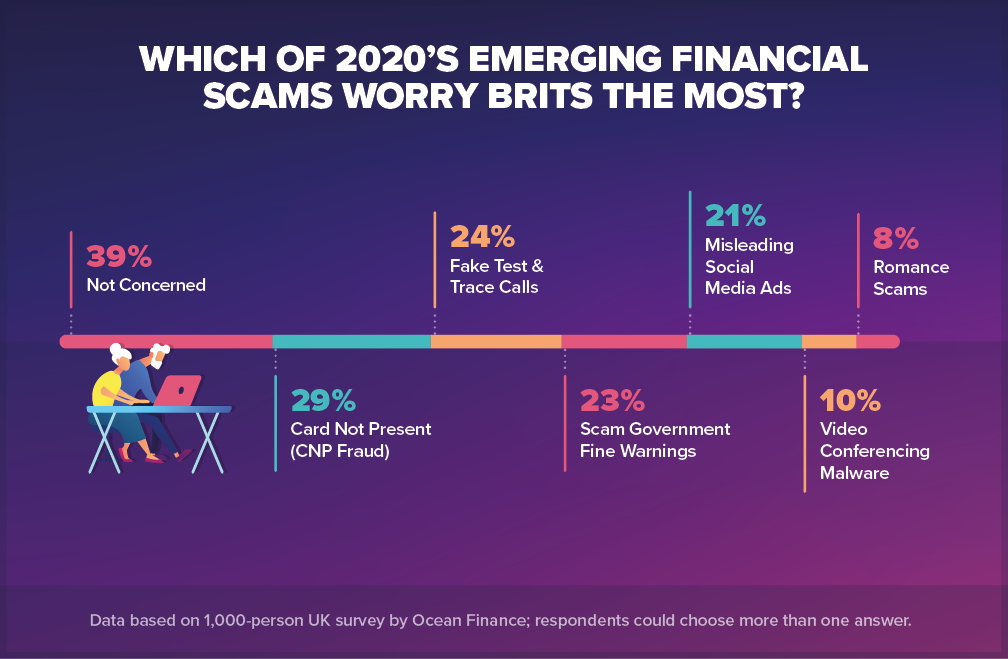 With financial fraud currently on the rise (12% up between 2019 to 2020), it's troubling that 39% of Brits surveyed aren't taking its risks seriously - especially as it can have a big impact both financially and emotionally for those affected.
Similarly, despite being an approach that's received a lot of media attention, 'Romance Scams' aren't a source of worry – potentially as people believe they're too savvy to be taken in. This could be misplaced confidence, however, as an average of 400 reports of this kind are made to Action Fraud per month, with losses between August 2019 and August 2020 thought to be £66,335,239.
More Covid-specific examples like 'Test and Trace', 'Government Warnings' and 'Video Conferencing Malware' were a concern for a combined 57% of respondents. This is not surprising as 2/3 believe that the pandemic has increased opportunities for financial fraudsters.
For tips on how to avoid becoming a victim of opportunistic scammers, there's some great advice available via Action Fraud's A-Z of fraud.
For more insights into staying safe online and advice on how to stay in tip-top financial shape, explore the Ocean Finance blog.
Methodology: Ocean Finance submitted an FOI request to the National Fraud Authority to learn more about what types of financial scams people should be on the lookout for in 2020 and were informed that the most recent insights into emerging fraud trends were over a year old (up to March 2019). They did, however, share more recent case data from the Home Office and National Fraud Intelligence Bureau (NFIB) which we've referenced in our study. Additional information on fraud trends, consumer behaviour and loss amounts gathered via 1,000-person UK survey.
Disclaimer: We make every effort to ensure that content is correct at the time of publication. Please note that information published on this website does not constitute financial advice, and we aren't responsible for the content of any external sites.