Up there with the FIFA World Cup, The Masters and Wimbledon, the Formula 1 (F1) Grand Prix is one of the most-loved sporting events in the UK.
The 2019 Grand Prix circuit consists of 21 races around the world. Starting in Australia at Albert Park in March, the season concludes in Abu Dhabi at Yas Marina at the end of November.
Now in its 70th year of running, the main players in the competition are Renault, Haas and McLaren, as well as Mercedes, Ferrari and Red Bull – who regularly take the winning positions.
If you love watching F1 on TV, perhaps you've considered jetting off to witness all the action unfold between Hamilton and Vettel live as it happens? If so, you might find it useful to find out how much it will set you back to attend each of the events at the circuit?
Here at Ocean Finance, we've looked at the most expensive and best value F1 destinations around the world, which might help you decide the races – if any – you should buy a ticket for.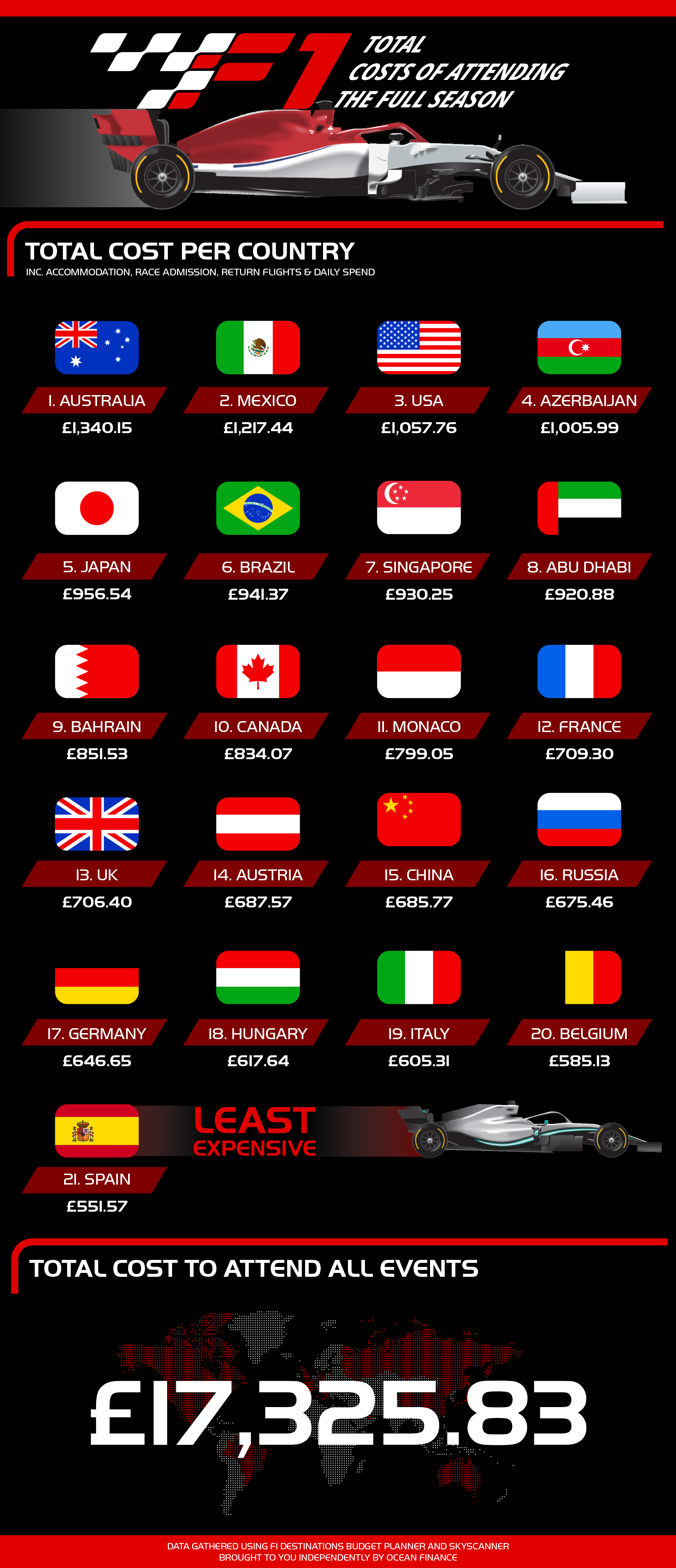 Getting in
When it comes to gaining admission into the individual events, prices aren't as ridiculous as you might expect. The fluctuations based on location are quite staggering, however.
Taking pole position in the expense stakes is the Monaco Grand Prix, with just a basic ticket for the weekend setting you back a huge £237.23 (per person). In second place is Abu Dhabi (£205.07) and in third place is the UK – where an entry ticket to Silverstone will cost you anything from £190.
Mid-table are Australia (£133.03), USA (£132.65) and Bahrain (£121.63), which proves there's no real pattern in terms of geographic location or continent.
Surprisingly, a ticket for the Chinese Grand Prix is the cheapest – priced just £54.07 for a basic entry weekend ticket. Japan (£59.12) and Russia (£64.42) are also extremely good value when it comes to gaining entry.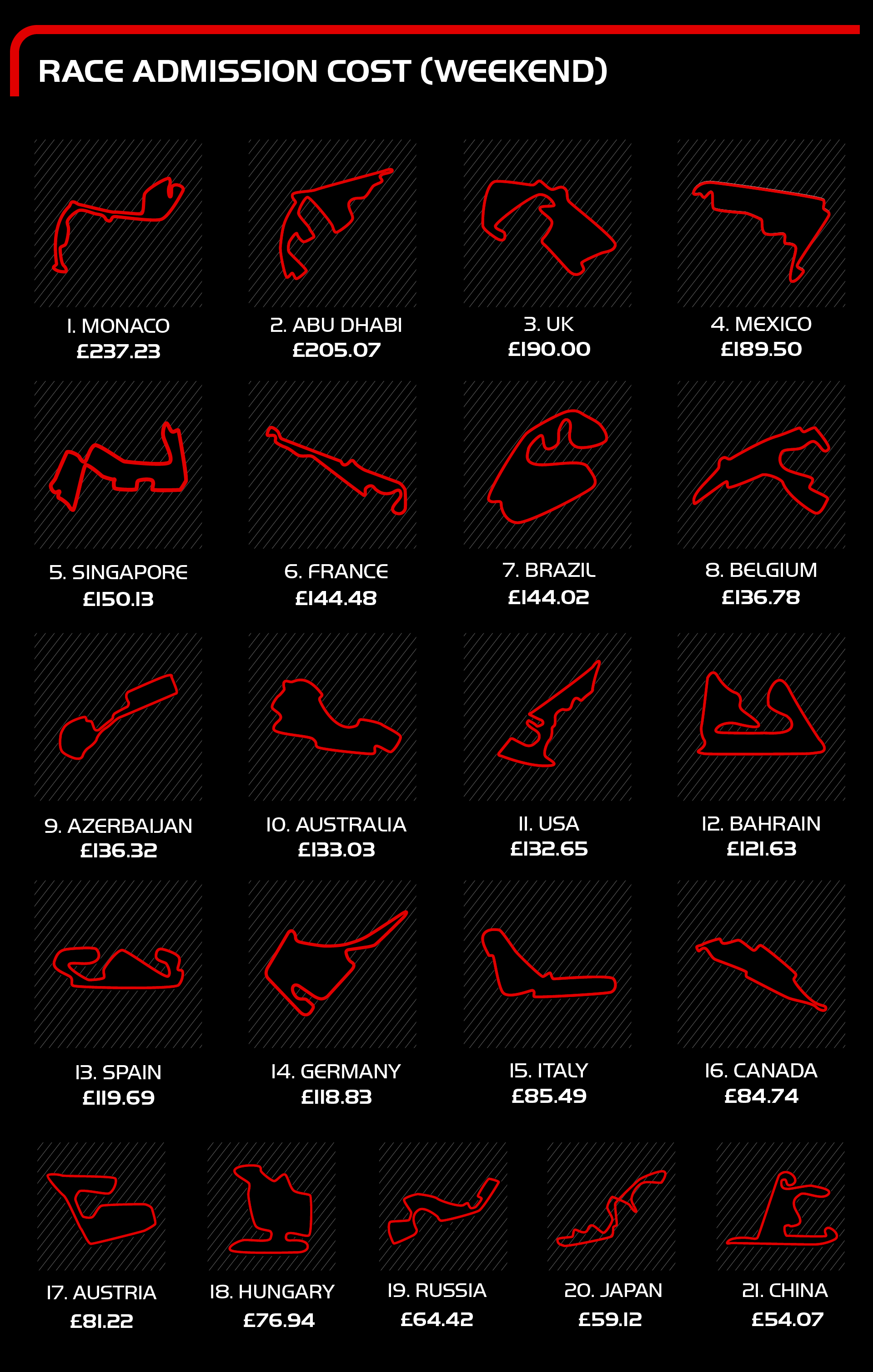 Getting there
Once you have factored in how much it'll cost you to get into the event, there's the issue of travel.
When travelling from the UK (London in this case), we found that actually getting to the Grand Prix events can be as much as double or even triple the cost of the admission fees – even on a budget flight.
It's no surprise to find that the most expensive return flights are to Australia, with an economy ticket starting at £751. Mexico is next up at £630 and Brazil in third place, costing anything from £479.
If you want a shorter flight time, and something much more affordable, then Belgium works out the cheapest, with flights starting at just £38. This is, in fact, even cheaper than hopping on a train from London to Silverstone to watch the UK Grand Prix, which will set you back upwards of £51.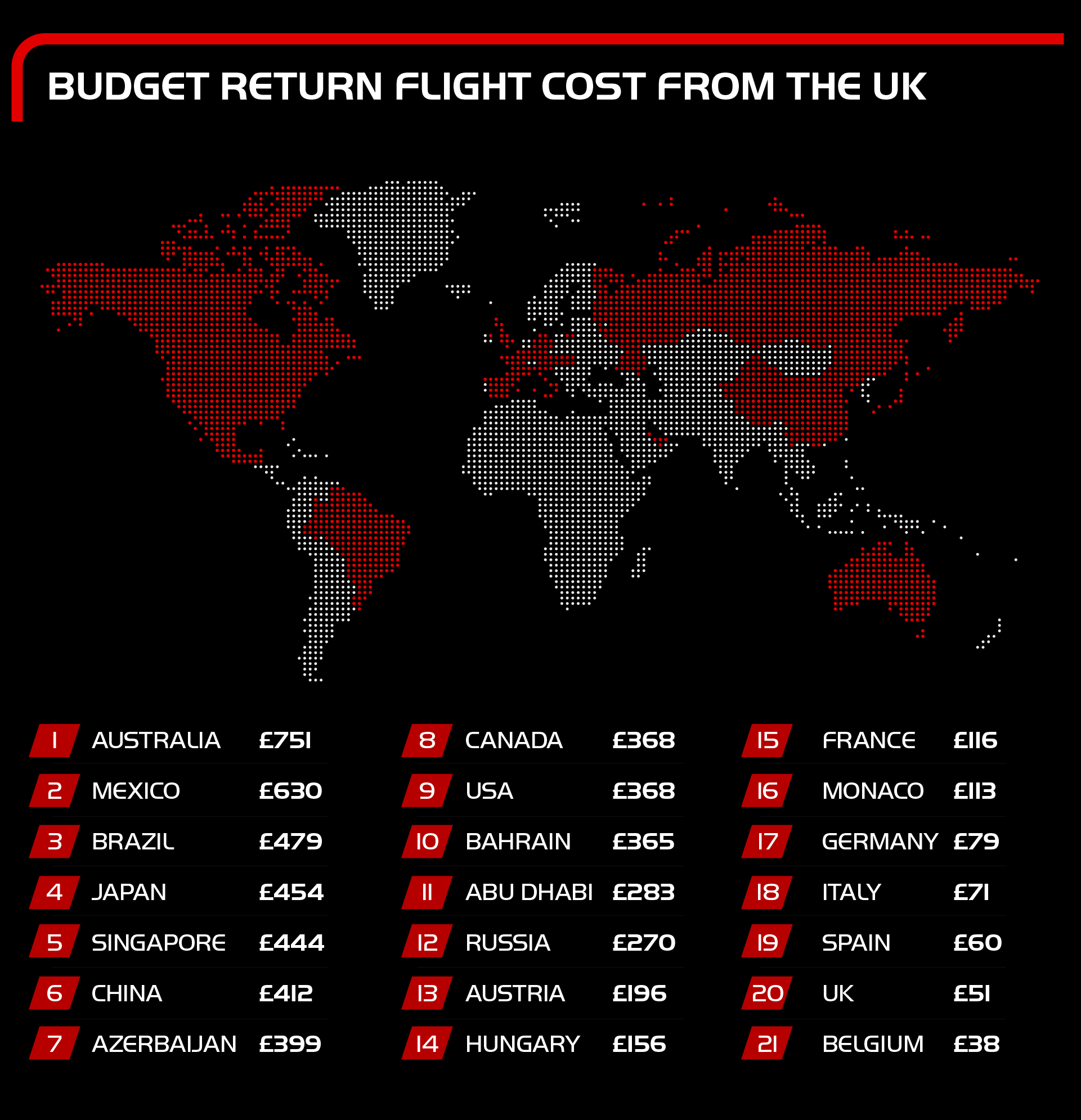 Staying over
After calculating the costs of getting in and getting there, the next question is where to stay?
Unless you have a great uncle in Azerbaijan or a pen pal near Marina Bay in Singapore, then chances are, you'll need to book accommodation for the duration of the race weekend.
Based on mid-range digs to cover a three-day race, it seems that accommodation near the Circuit of The Americas in Austin comes with the highest premium. A stay there will cost you around £284.24. Close behind is Azerbaijan, where a hotel or apartment will set you back around £284.18.
Don't be fooled into thinking that staying close to home in the UK is the bargain option. In fact, it's the fourth most expensive F1 nation for accommodation, costing you around £225 for the weekend.
Although the costs of getting there in the first place might be higher, you can expect to be able to book bargain lodgings when visiting China, Brazil and Russia – a weekend stay costing you £84.48, £90.96 and £113.68 respectively.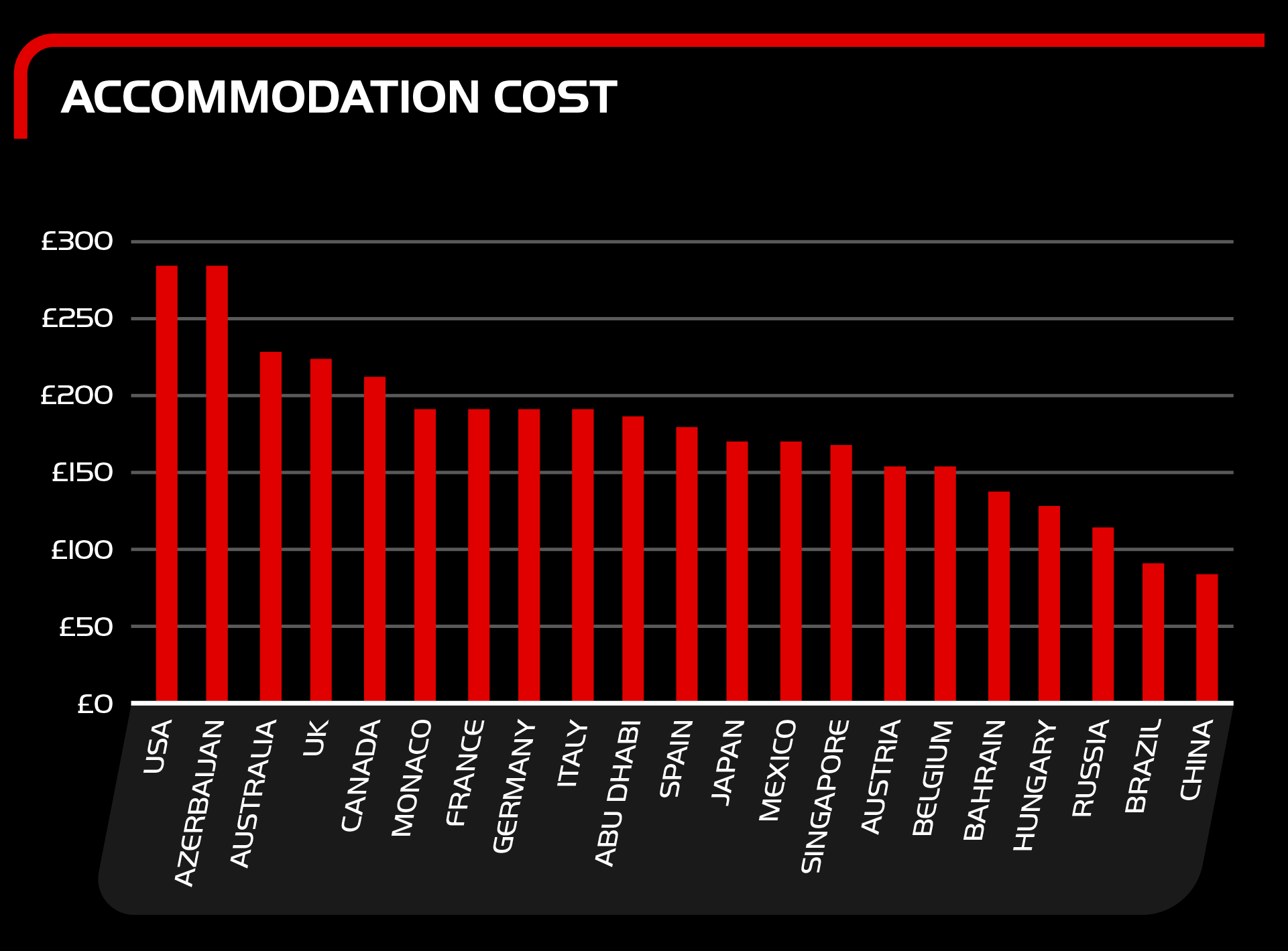 Spending money
We don't often think about spending money when planning a trip, but this can sometimes have a big effect on how much we put onto our credit cards. Therefore, we investigated the average amount of spending money you're likely to spend at each event – based on food, drink and transport.
On the front of the grid, Japan and USA are the most expensive. A combination of sundries, sushi and slaw could set you back an average of £272.87 over the weekend's festivities.
Monaco (£256.47) also ranked high in the expense stakes, along with France, Austria, Germany, Belgium and Italy (all the same on £256.47).
Fun in China, it seems, does not come at too high a price. There, the average spend is £135.22 and it's closely followed by Singapore, where you can dine out on street food and slings for three days for a reasonable £168.06.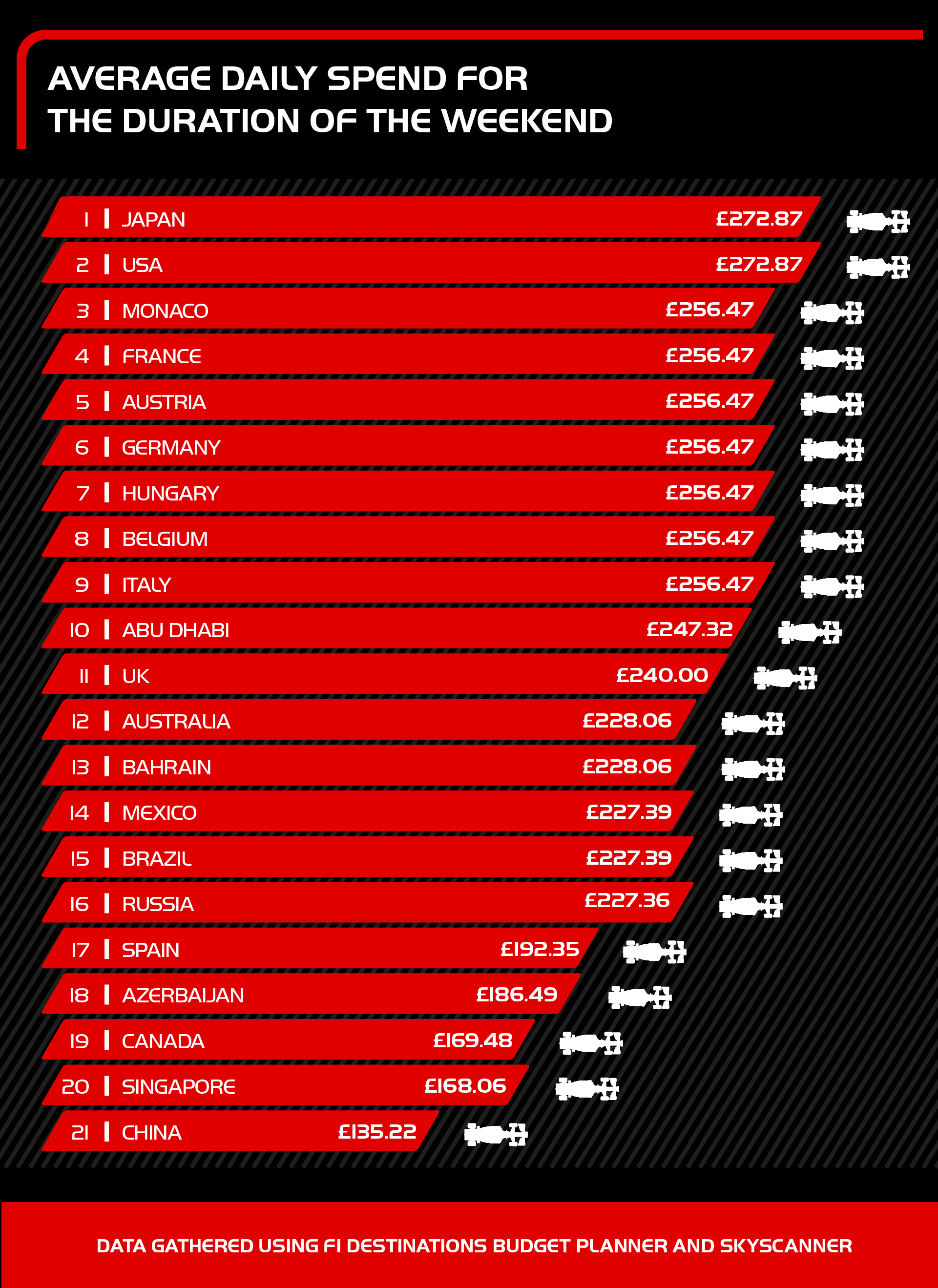 Total stake out
Considering all the cost factors above, which Grand Prix do you think will cost the most for us Brits to attend?
Well, it seems distance really is the deciding factor here. Australia taking the top spot when taking into account accommodation, admission, flights and spending money. For a trip to the F1 Down Under, you can expect to fork out £1,340.15 to attend.
Second most-expensive is Mexico (£,217.44), followed by USA (£1,057.76).
If you're desperate to take in a Grand Prix but don't want to extend your loan by a huge amount, Spain looks to be the best choice. Costing just over a third of the price to attend the Australian Grand Prix, you could enjoy all the action in Spain for as little as £551.57.
For those huge F1 enthusiasts who really want it all, it'll come at a cost – and a serious one at that!
Attending each of the 21 F1 races on the 2019 calendar won't give you change short of £17,325.83. That's more than the National Living Wage and more than most of us would consider spending on holidays over a 10-year period!
But if you're that desperate to soak up the atmosphere from each Grand Prix, now is the time to start saving…
Disclaimer: We make every effort to ensure that content is correct at the time of publication. Please note that information published on this website does not constitute financial advice, and we aren't responsible for the content of any external sites.