As a nation of tea and coffee lovers, we get through a lot of disposable cups.
In fact, Costa estimate that around 2.5 billion disposable cups are thrown away each year. So we find out how much you could save (both your pocket and the planet) by using an eco cup instead.
They're cheap and convenient. But many paper cups contain plastic (to keep them waterproof). This means that they can't be recycled, so many disposable cups end up in landfill.
With plastic pollution building (literally), many coffee shops are encouraging customers to boycott single-use cups. They're offering discounts for customers who use reusable cups instead.
Ultimately, the most cost-effective way to save on hot drinks is to make your own. But we know this isn't always convenient (and sometimes you just want a treat). So we take a look at which cafes offer the best discounts, and how much money you could save with your own eco cup.
Bear in mind that drinks prices vary between coffee shops, so it's best to check the starting price, then deduct the discount to find the cheapest deal.
Top three coffee chains in the UK (in no particular order):
Caffe Nero - buy five drinks, get one free
Branded cup £11
Caffe Nero are offering double stamps when you buy a Barista-made drink in any reusable cup. With their loyalty scheme, you get one stamp for every drink you buy, then the tenth one is free.
With this offer, you only need to buy five drinks to get one free - as long as you bring your own cup.
In addition, they've teamed up with Keepcup to produce a fully-recyclable cup. It costs £11 and they make an impressive claim that 'if you use a KeepCup for a year instead of disposables, you'll have saved 3kg of plastic'.
In terms of how much money you'll save, it depends on the price of the drinks you buy. But if you're already going to Caffe Nero, you'll be able to get twice as many drinks for free - doubling your savings.
Costa - 25p off
Branded cup £3
Costa offer 25p off hot and cold barista-served drinks when you use an eco cup of your choice.
You can buy a reusable mug for just £3. At this price, it'd only take 12 discounted drinks to effectively 'earn' your £3 back. After this, you could save around £60 a year (if you normally drink 5 cups a week).
Costa have also launched the UK's first 'Clever Cup', which is retailing at £15. Just insert a chip in the base of the cup and register it to the Barclaycard bPay app. It works like a prepaid contactless card (for Costa purchases up to £30). Just top it up as and when you need to.
Starbucks - 25p off
Branded cup £1
Starbucks are also offering a 25pence discount with any reusable cup. So again, you could save around £60 a year on drinks (if you normally drink 5 cups a week).
On top of this, they impose a 5p per paper cup charge to put people off using disposable cups. So you're essentially saving 30p per drink.
In addition, Starbucks have the cheapest branded mug for just £1. So you'll only need to buy four discounted drinks to recoup your initial outlay.
Remember, you can use this mug at any other participating cafe, not just Starbucks.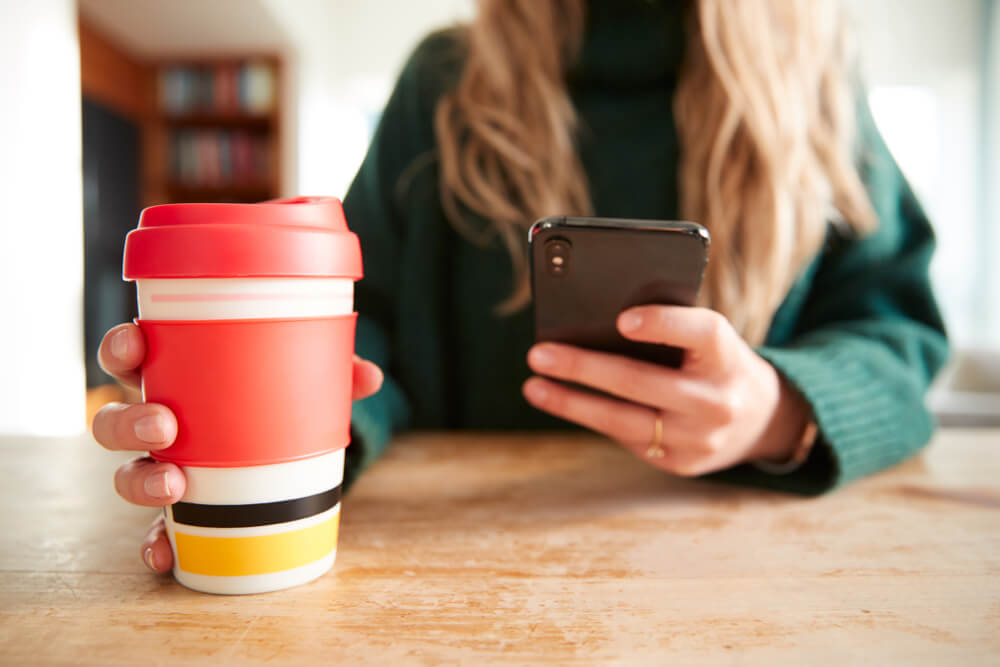 Best of the rest (in no particular order):
Certain eateries across the UK have also joined the recycling revolution by taking money off when you bring an eco cup.
Pret a Manger - 50p off
Branded cup £10
Pret a Manger give you 50p off hot and cold barista-served drinks when you use an eco cup. They doubled the discount in 2018 from 25p.
Greggs - 20p off
Branded cup £2
Greggs are offering 20p off hot drinks when you use an eco cup. They're also selling a Greggs branded mug for just £2. Good Housekeeping rate it as 90/100.
M&S cafe 25p off
Branded cup £3
You can get 25p off hot drinks when you use your own mug in an M&S cafe. They also sell M&S travel mugs for £3.
On top of this, they've started a new initiative to encourage people to bring their own food containers - with 25p off food at their fresh food counters.
Tip: It's also worth checking local and independent coffee shops to see if they're running any incentives. Bear in mind that you only save money if you maintain your current coffee consumption, rather than increasing it in light of the discounts.
Should I buy a reusable cup?
You might already have a reusable mug at home that you can start using straight away. In which case, whip it out. These cafes will accept any reusable mug - not just their own branded ones.
The more you spend on a cup, the longer it'll take you to reap the financial benefits. Even so, they can last for years (if they're looked after properly), so you should get your money's worth in the long run.
The good thing is, whichever mug you go for, you'll be helping the environment from day one, one coffee at a time.
All the extra cash you save will soon add up. Perhaps you could save it for a rainy day, or you could treat yourself to little extras like marshmallows and cream to jazz up your hot chocolate.
Read 'Five ways to reduce your fashion consumption' for more ways to unleash your inner eco-warrior.
Disclaimer: We make every effort to ensure that content is correct at the time of publication. Please note that information published on this website does not constitute financial advice, and we aren't responsible for the content of any external sites.