We all want to spend more time outside during the warmer months. But, when your garden leaves a bit to be desired and you don't have the budget for a total redesign, what can you do to transform it into an outdoor oasis?
Enter upcycling. This crafty technique gives old stuff that would otherwise be destined for the tip a new lease of life as something entirely different. And, it's perfect for your garden.
We've rounded up some of our favourite garden upcycling ideas to help you transform your garden on a budget.
Upcycle an old colander into a hanging basket
Old, metal kitchen utensils lend themselves well to garden upcycling. Something like a colander, which has holes in (for ready-made drainage!) can easily be upcycled into a quirky hanging basket.
All you'll need is:
an old metal colander
a hanging basket liner, so your compost doesn't leak out of the holes
To turn your colander into a hanging basket, attach the chains to the colander, either using its handles or by looping the chain through drainage holes near the rim of the colander, and pop your liner in. It's as simple as that. What's not so simple is deciding what you'll plant in it!
Breathe new life into old garden furniture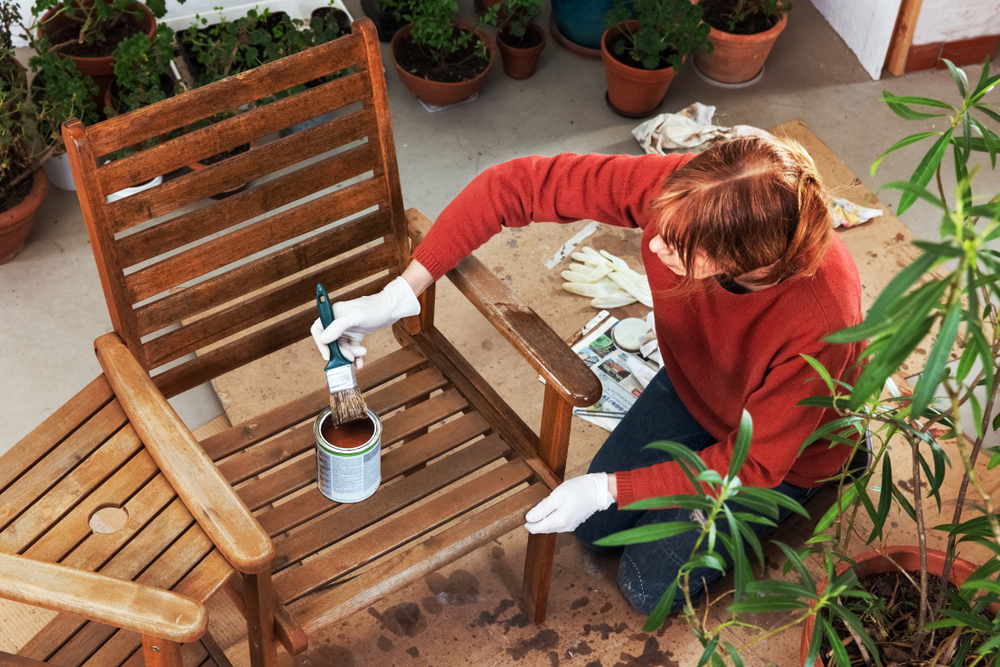 As long as it's still structurally sound, old wooden garden furniture can easily be brought back to life with a bit of upcycling magic.
Whether you've got an old picnic bench set, a table and chairs or a wood-framed sun lounger, all you need to do to revive your wooden garden furniture is:
sand it down to get rid of any old stain or paint
carefully brush off dust with a dry paintbrush so you have a smooth surface
apply two coats of your chosen paint or wood stain
You don't have to stick with recreating your furniture's original look, either; you can do whatever you like! Why not use a bold colour, like this lovely light blue from Wilko that's just £6 for a 1-litre tin? Or, pick a colour that brings your interior colour scheme outside? If you're feeling really creative, you could even paint a striking pattern onto your furniture, like #tidylife blogger Antonia did here.
Give old CDs and DVDs a new purpose
How many of us never use our old CD and DVD collections, but still have them gathering dust at home? No longer! Put your old discs to use by upcycling them into garden decorations. All you need to do is string your CDs and DVDs together using fishing line or invisible thread. If you have a lot of discs to use, you can make a few strings of different lengths. Then, you can simply tie them to the branch or branches of a tree with more thread. Or, tie them along the length of a piece of bamboo cane that you can then hang by attaching a bit of garden twine around each end.
The discs will catch the light as they spin round in the breeze, making an attractive and extremely cost-effective decoration for your garden. They also come with the added benefit of keeping birds away from plants you don't want them to eat!
Wellington plant pots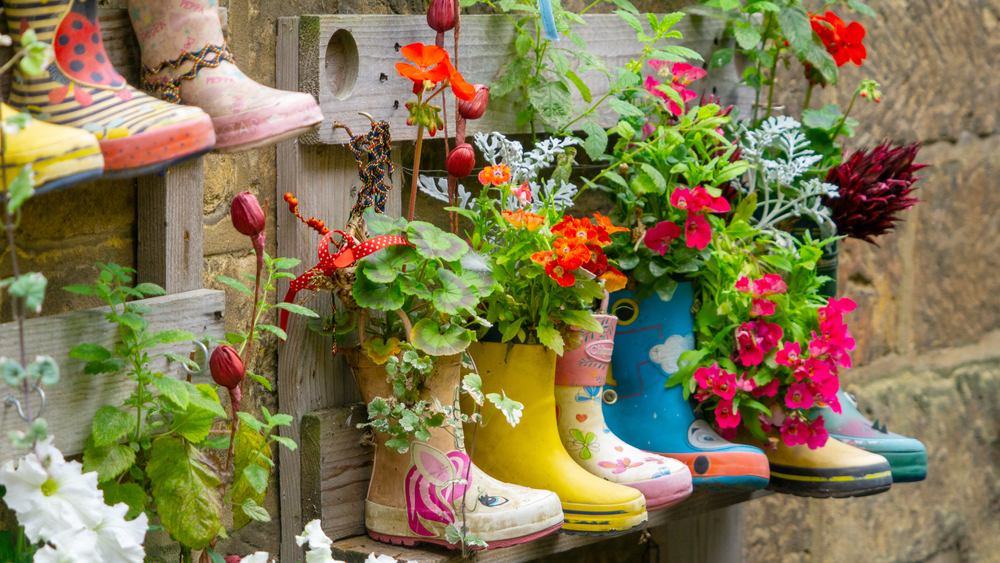 Virtually all of us will have a pair or two of old wellies kicking around at home. Particularly if you have children, you may still have boots that they've outgrown, but you're not sure what to do with. Why not upcycle them into quirky plant pots?
To give this upcycling project a go, you'll need:
a pair of old wellies – the more brightly patterned, the better
a drill
stones or pebbles
Why a drill? Because after you've taken any insoles or liners out of your old wellies, you'll need to add drainage holes in the soles so that water can drain out of your new plant pots and allow the compost to breathe. Using a drill is a quick and easy way to create these holes – just make sure you clamp your wellie on a workbench to avoid any power tool-related injuries!
Once you've done this, simply pour some stones or pebbles into the bottom of your boots to weigh them down, then add compost and plants or seeds of your choice.
Need a bit more guidance? Follow this tutorial by Cassie at My Thrifty Life!
Upcycle a teacup into a bird feeder
Old teacup and saucer sets, surprisingly, make very good bird feeders. And, they're really easy to make with minimal "special" equipment. All you'll need is a teacup and saucer, some superglue and some garden twine. You may have all these things around the house anyway, and if not, you can pick them up for a few pounds from a DIY shed or garden centre.
To make it, you'll need to:
tie the garden twine around the saucer a bit like you were tying a ribbon around a present - so that you have four long strands of twine that you can tie together in a secure knot to create a hanger
superglue the cup to the saucer however you like (we suggest tipping the cup on its side)
once dry, fill with your garden birds' favourite nuts, seeds and mealworms, and hang up your feeder for them to enjoy!
Make your own garden furniture out of old wooden pallets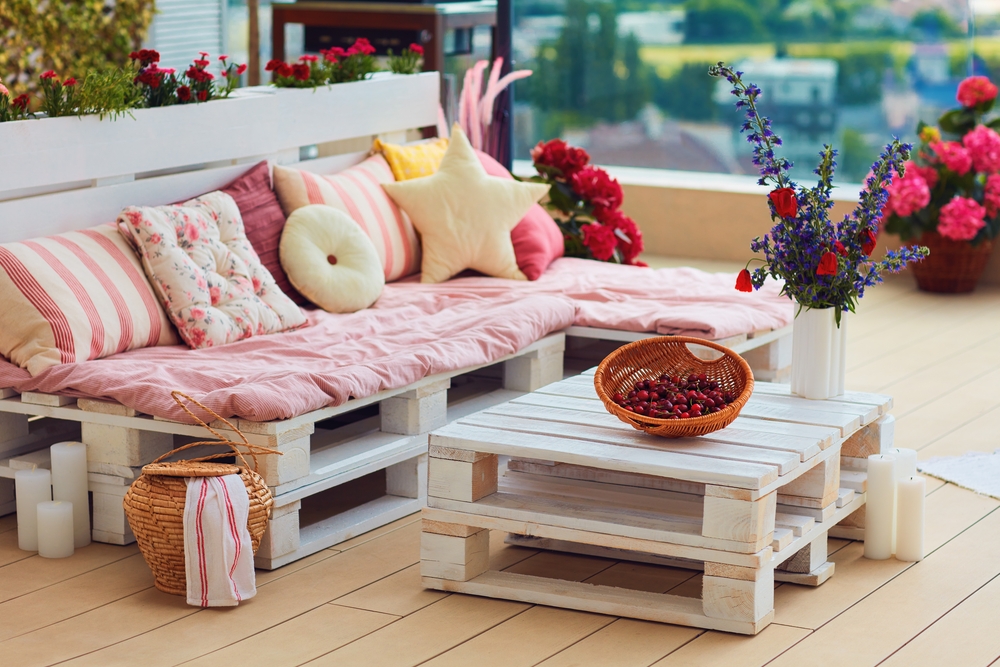 Garden furniture that looks like it's been made from wooden pallets is all the rage and can cost an absolute fortune. But, why spend your hard-earned money on this, when you can make it yourself for a fraction of the cost?
OK, wooden pallets are something you're unlikely to have lying around the house. But, you might be able to get your hands on some for free, or very cheaply, by asking nicely at your local builder's yard, a nearby warehouse, DIY shop or even your local big supermarket. You can even try Facebook community groups and websites like Gumtree or Freecycle. Once you've got them, all you'll need on top is a variety of screws and a drill, sandpaper, paint or wood stain, and some cushions to finish it off.
But, how many pallets will you need? That depends on what you want to make, so it's a good idea to plan out your project ahead of time so you get the right number and don't find yourself short or with leftovers.
A corner sofa that can seat four people comfortably will need at least nine rectangular pallets. It may need more if you want your seats to have a bit more height or if your pallets are small or square.
You might have a clear vision of what you want to make and be able to crack on once you've gathered your supplies. But, if you need a bit of help from a tutorial, this one by blogger Tolu Frimpong will help you create a fantastically stylish garden furniture set.
Not got much outdoor space to play with? Try out our 10 ways to make the most of a small garden!
Disclaimer: All information and links are correct at the time of publishing.