Identity theft accounts for about 50%* of all fraud reported in the UK. We find out what you need to know to protect yourself and your credit score.
What are identity theft and identity fraud?
Identity theft is the criminal act of stealing personal information from another person. It comes in many forms, but often it's financial data or passwords that are stolen. It tends to lead to identity fraud, where stolen data is used to gain money. Fraudsters may take out credit and buy goods in your name, or use your existing bank details to obtain further credit and rack up debt for example.
This can affect your credit score and your ability to additional or future credit. Not only that, but it can also impact your self-confidence and mental well-being.
To try and prevent yourself from becoming a victim, it's best to be aware tactics criminals use, including:
Cold calling
Redirecting post
Stealing data from social media
Planting malicious malware on computers
Phishing (i.e. sending spam emails)
Intercepting public Wi-Fi to access bank accounts
How can I find out if someone is using my identity?
Look out some of these tell-tale signs:
New searches and/or accounts on your credit report that you don't recognise
Unusual activity on your bank and/or credit card statements
Receiving a credit card or goods you didn't request
Receiving email receipts for purchases you didn't make
Missing post / ID that may have been stolen
Being approved or rejected for credit applications you didn't make
Having a genuine credit application rejected when you've got a good credit score
Receiving letters and phone calls chasing you for money on accounts you haven't opened
Tip: Get in the habit of checking your statements and credit report once a month. Report anything suspicious straight away.
Remember that if you are a victim, you are not the only one and there is support out there for you. Seek help if you need it, from charities like Victim Support, The Samaritans or Age UK.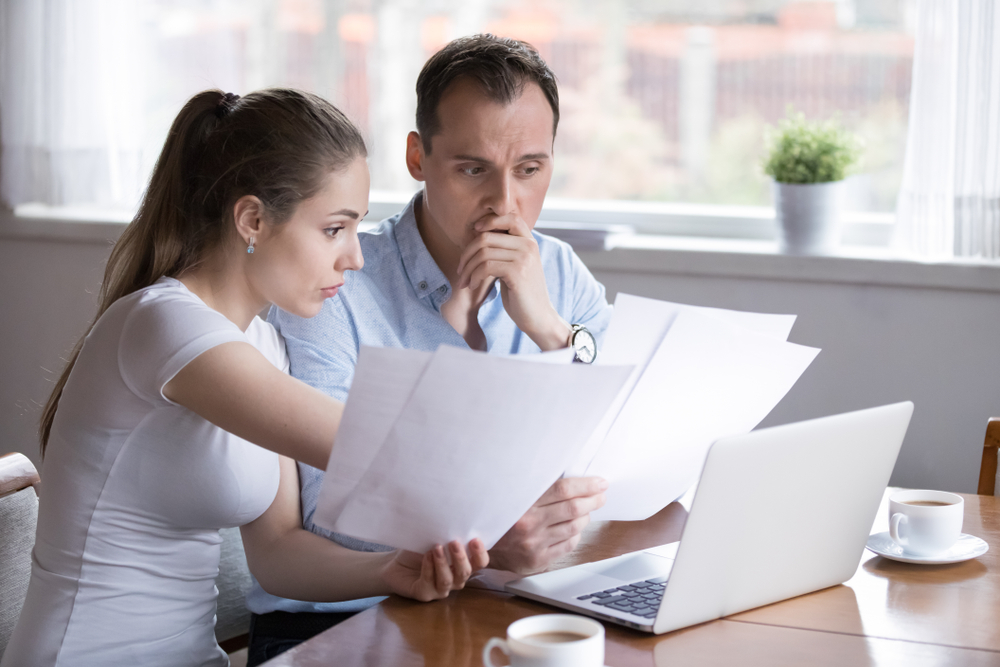 Does identity fraud affect your credit score?
Yes, if fraudsters obtain or use credit in your name and fail to repay it, this will show on your credit file for lenders to see. It can affect your credit score, and in turn, your ability to get additional finance. In fact, some people don't notice that they've been targeted until they're unexpectedly rejected for credit.
A single missed payment can knock about 130 points off your credit score. Three to six missed payments can lead to defaults, which can impact your score further.
Multiple credit applications in your name made within a short space of time can damage your credit score. Whether they're accepted or rejected, it can give lenders the impression that you're struggling financially.
Plus, if fraudsters max out your credit cards and overdrafts, this will increase your credit utilisation ratio, making you seem irresponsible. Lenders may think it's too risky to lend you money.
How do I fix my credit report after identity fraud?
These negative markers on your credit report can impact you, even if you aren't at fault. So it's important to check your credit report regularly and report anything suspicious straight away.
Follow these five steps:
1. Report it to the credit reference agencies
You can check your credit report for free using the three main credit reference agencies in the UK: Experian, Equifax and TransUnion. This won't affect your credit score or leave a footprint on your credit file.
Report any mismatches to these agencies, so they can raise the issue with the relevant lender. It can take a little while to get your records updated, so the sooner you report it, the better.
If it isn't refreshed straight away, don't panic. The credit reference agencies need to wait for the lender to approve your request beforehand. Then it can take another 4-6 weeks to amend data on your report.
2. Tell the lender
Make sure you speak to your lender or bank directly if you are a victim of fraud.
Whether you're due a refund for stolen funds depends on a number of factors (such as if you authorised the payment, for example). If you don't agree with the lender's decision, you could raise a complaint with the Financial Ombudsman. They'll be able to look into it from an unbiased point of view, taking your own circumstances into account.
3. Consider getting a fraud alert on your credit report
If you're worried, you could set up a fraud alert on your credit report. Lenders will be alerted to the fact that they need to confirm your identity before they offer credit in your name. This will make it more difficult for fraudsters to pretend to be you.
Setting up an alert won't affect your credit score, but you may have to pay for this service.
Equifax offers WebDetect which notifies you if they find your data on websites used by fraudsters. It's part of the Equifax Credit Report & Score service which is free for 30 days, followed by £7.95 a month.
Experian provides similar protection with Identity Plus, which tells you if they spot anything suspicious. On top of this, they'll send you a daily fraud report helping you to recognise fraudulent activity. Experian comes with a free 30-day trial, then it's £6.99 a month with Identity Plus.
4. Add a Notice of Correction password
Alternatively, you could ask the credit reference agency to put a password on your credit report. They can write a note (known as a Notice of Correction) containing a password of your choice. Lenders will see this note whenever someone applies for credit in your name. So they will ask the applicant for the password to confirm their identity before they lend the money.
This is free to do and adds an extra layer of security. But remember to use a unique password so fraudsters won't be able to guess it correctly. Be aware that it can slow down the application process.
5. Inform Action Fraud
To help catch fraudsters, it's best to report incidents to more than one organisation. Action Fraud can give you advice and point you in the right direction to get your report dealt with properly.
You can contact them on 0300 123 2040, or if you are deaf or hard of hearing you could use textphone on 0300 123 2050. Or get in touch by live chat or by using their online tool.
Read on for more tips on spotting and stopping scams.
Disclaimer: We make every effort to ensure that content is correct at the time of publication. Please note that information published on this website does not constitute financial advice, and we aren't responsible for the content of any external sites.