If you have missed 3-6 repayments back-to-back on a loan, mortgage, credit card, or any other type of borrowing, you may be issued with a default.
You should be given warning of this in the form of a default notice if you've missed payments on unsecured borrowing like a credit card, personal loan, payday loan or store card. If the default is on a mortgage, you won't get a default notice.
At this point, it's understandable if you feel stressed and overwhelmed. However, the worst thing you can do is ignore a default and not act on it.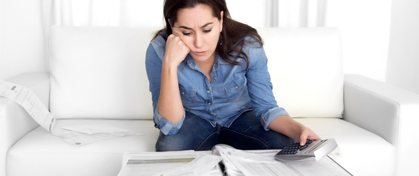 Don't ignore a default notice
A default is the cut-off point where a lender decides enough is enough. They will likely close your account and may start legal proceedings to claim the money back. It will be marked on your credit history for up to six years, too.
As long the type of borrowing you've signed up to is included in the Consumer Credit Act – credit cards, payday loans, personal loans, store cards and store finance should all be covered – then you must be given a default notice by your lender. This must be sent to you before you're issued with a default.
In a default notice, you'll be told how much you owe and that your account will default if you don't repay the cash. You should be given at least two weeks to repay what you owe.
If you manage to repay everything you owe during this time, your account should be restored and you can continue like normal. But if you can't repay, you'll most likely be given a default.
Should you find yourself in a position where you know you can't afford to repay what you owe, your priority is to speak with your lender as soon as you can. They may agree to a payment plan to help you, although they don't legally have to do this.
What's so bad about a default?
So why is getting a default more worrying than, say, making a payment late? Well, a default has more severe consequences than a late or missed single payment. If you have a default on your credit history, it remains there for six years, and may affect your chances of taking out credit in the future. It could especially cause problems when applying for a mortgage.
Some lenders will turn your application down instantly if they see a default on your credit history. Unfortunately, it's a red mark that many lenders simply don't want to see as it acts as a warning that you have struggled to pay back what you owe.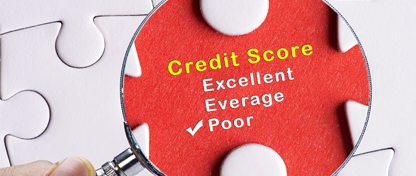 Repairing the damage
It can be really disheartening if you receive a default, but it's important to lessen the damage as best as you can if you do get one.
Remember to keep on top of any other credit agreements you have by making all your repayments on time and in full each month. If you have a mobile phone contract or pay utility bills, don't let these payments slip. Some lenders will look at this as a sign you can keep up with your financial commitments.
When the time comes and you feel ready to take on another line of credit, you may be able to get your credit history on the road to recovery. Some lenders may consider lending to you once your default is around three years old, but this varies.
A credit builder credit card could help you to repair some of the damage to your credit history, as long as you're confident you can meet the monthly repayments. The Ocean Credit Card (39.9% APR Representative (variable)) might be open to you after some time has passed since you defaulted, but it's important to only apply if you have room in your budget for the repayments.
Disclaimer: All information and links are correct at the time of publishing.