Building your credit doesn't need to be a long and difficult journey. With these simple actions, you could increase your credit score by 100 points .
If you want to apply for finance but need a quick credit clean-up first, these tips could put you in a better light. Not only that, but they could improve your credit score by 100 points – which could be the difference between a 'poor' or a 'fair' credit score.
Credit reference agency Experian revealed how they calculate your score based on your borrowing activity. With that in mind, we've put together four simple steps which could make or break your credit application:
Sign up to vote: +50 points
Lenders looking at your credit report like to see stability. Things like having a stable job and living at a permanent address can make you seem like a reliable candidate for credit – and your name on the electoral roll proves that you've settled down in a certain area.
Plus, seeing your name on the electoral roll gives lenders the reassurance that you are who you say you are. Signing up to vote allows lenders to confirm your identity, as it shows that you're not making a fraudulent application.
And if you still need convincing, it only takes a few minutes to register. So, what are you waiting for?
Pay your car insurance monthly: +20 points
Paying for your car insurance each month can make your payments more affordable on a regular basis. But did you know that it can also improve your credit score?
Experian revealed that by opting to pay your car insurance monthly, you could see your credit score increase by 20 points. This is because lenders like to see that you can manage payments over a long-term basis.
Every time you meet a repayment on time, you're proving that you can be trusted with money – and signing up for a long-term payment plan can show that you're a responsible borrower.
It's worth remembering though, that if you can afford to stump up the total cost for a year, you could save some cash in the long run; so it boils down to what's more important for you.
Use 30% of your credit limit: +90 points
When it comes to using your credit card, less is more. Using up lots of your available balance could make it seem like you struggle with money and depend on the credit to make ends meet.
However, lenders also like to see you regularly using your credit card. This is because you're proving that you can be trusted to borrow money and pay it back every time.
To help you stick to using less of your balance, try clearing your balance in full every month. To do this, you could use your card to buy things you can easily afford to repay when your statement becomes available – for example, why not put a week's petrol on your plastic?
If you've racked up a big credit card balance, it could be worth paying off as much as you can afford to reduce it down. When your balance hovers around the 30% mark, Experian have revealed that your credit score could increase by a huge 90 points.
Don't apply for 6 months: +50 points
If you apply for credit, lenders will take a good look at your credit report to see if you're eligible. This is called a 'hard search', as it'll leave a mark on your report that shows you've made an application.
Multiple hard searches on your credit report can make you appear a little credit-hungry. If you seem desperate to get your hands on some credit, lenders might be wary of lending to you – as they might think you're in a sticky financial position.
Try to steer clear of applying for credit for a while and your credit score could increase by around 50 points. Or, if you can't wait, make sure you check to see if you're eligible before you apply to save yourself from making too many applications.
Take a look at the full list here: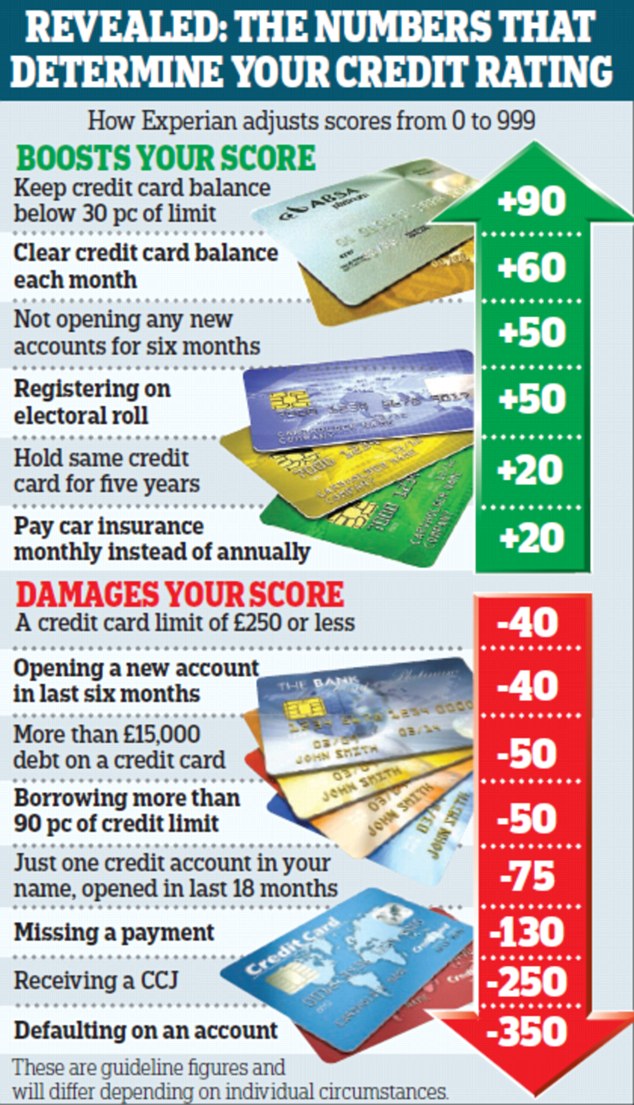 Please note, Experian's way of calculating credit scores may be subject to change. These figures are to be used as a guideline only.
Disclaimer: We make every effort to ensure that content is correct at the time of publication. Please note that information published on this website does not constitute financial advice, and we aren't responsible for the content of any external sites.