Are you itching to take your first steps on the property ladder? Maybe the biggest thing holding you back right now is the need to save up a deposit?
So, exactly how much do you need to save to get a deposit for a first home? We take a look – and give you some top tips for saving.
£34k is the magic number
That's right – the average deposit a first-time buyer needs today is £33,960. This is according to Halifax, which also revealed that the average UK house price currently stands at just under £200,000.
And that's just the national average – if you're hoping to buy a house in London, you'll have to save around £95,693 as a deposit.
However, the deposit you need will ultimately depend on the price of the property you're hoping to buy. £33,960 is around 17% of £200,000 (the average UK house price) and this is a good marker to go off.
According to last year's Which? National Property Survey, more than half of first-time buyers put in a deposit worth more than 10% of their chosen house's asking price. And in order to secure a mortgage, the survey suggested borrowers should have a deposit of at least 5%.
However, it helps to save more.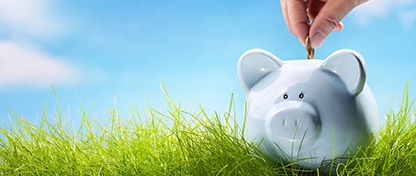 The bigger the deposit, the bigger the loan
It makes sense doesn't it? The bigger the deposit you save up, the more you may be able to borrow. So, if you manage to save £50,000, this is equal to 17% of nearly £300,000 – far above the national average.
If you save up a sizable deposit, you may – depending on your circumstances – be able to get a bigger mortgage. This is because even though you're borrowing more, you'll still have a large chunk of equity in the property to act as security. So, a big deposit could help you buy a big 'forever home', or a property in an in-demand area.
However, having a large deposit doesn't mean you have to borrow more. Instead, you could borrow less and have more equity in the property.
Let's say you've saved £34,000, which is close to the size of the deposit saved by the average first-time buyer. However, rather than buying a £200,000 property, you buy one for £150,000. Your deposit is therefore equal to 23% of the property's value. By taking out a mortgage of £116,000 to pay for the outstanding balance on the property, this gives you a loan-to-value of 77%.
The lower your loan-to-value is, the better deal you're likely to be able to get on your mortgage. You might be accepted for one of the more competitive mortgage rates on the market because you own more of the property so there is less risk to the lender.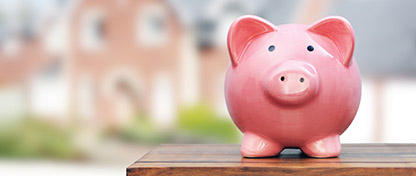 Get saving
So, whether you want to borrow more or get a better deal on a mortgage, you need to save up a sizable deposit. Unfortunately – and there's no way round it – this can take time.
However, help is at hand. The government runs a range of different schemes that can help either boost your deposit savings or save you money on the actual price of the house you buy.
Disclaimer: We make every effort to ensure that content is correct at the time of publication. Please note that information published on this website does not constitute financial advice, and we aren't responsible for the content of any external sites.