If you're a homeowner, is there a way to make the equity in your home work for you?
Well, you may have heard of equity release, which is a way of releasing some or all of your home's equity – the amount that's left when you take away your outstanding mortgage balance from the value of your property. You can do this using either a 'lifetime mortgage' or a 'Home Reversion Plan'.
This is often done to finance later life care or home improvements that ensure your property suits your needs when you're older. However, equity release schemes are typically available to homeowners over the age of 55, so they're not suitable for everyone.
But equity release isn't the only way to take advantage of the equity in your home.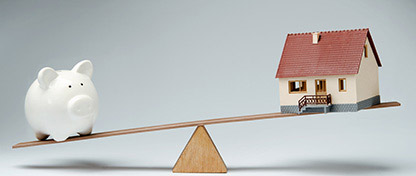 Is there another option?
Do you need money to pay for a big home improvement project? Perhaps you're thinking of buying a car. Maybe you want to consolidate your debts – can you make use of the equity in your home to raise the money you need for these expenses?
Well, there are options available. Let's take a closer look:
Remortgaging – You can remortgage to raise extra cash or simply to take advantage of a better deal. To do it, you will leave your current mortgage deal and take out a new one, with either the same lender or a different one. Depending on the amount of equity in your home, it may be possible to extend your mortgage and get a cash lump sum, which will be treated as part of your mortgage and paid back in monthly instalments.
With rates currently so low, remortgaging may seem like a good move. However, you may be charged by your current lender for leaving the deal you're on early, so work out whether this will end up costing you more than you'd save in interest.
It's also important to carefully consider whether you can afford to borrow more, as this could make your monthly repayments more expensive. If you took out your mortgage before April 2014, you may find that the application process is a lot tougher now following the introduction of the Mortgage Market Review. Be prepared to answer in-depth questions on your existing credit agreements and current spending habits.
Secured loan – This is a loan that's secured to your property. So, just as with a mortgage, if you don't keep up with your secured loan repayments, your lender is entitled to repossess your home and sell it to get back the money you owe them.
A secured loan lets you spread your repayments over a longer period than you'd be able to with a personal loan and can also let you borrow more, as the lender has your home as security. However, you must be sure you can afford to make these loan repayments on top of your existing mortgage payments.
The more equity you have in your home, the better the deal you'll get with a secured loan. One way to work this out is to look at your home's loan-to-value (LTV) – you can check out our guide to LTV here.
You now know some of the ways to make the equity in your home work for you. We hope we've answered some of the questions you had on releasing equity – and remember to check the blog for more useful information on borrowing.
Disclaimer: We make every effort to ensure that content is correct at the time of publication. Please note that information published on this website does not constitute financial advice, and we aren't responsible for the content of any external sites.