Scammers are sending out fake text messages, which tells people that they are "eligible to apply for your vaccine" and then attempts to steal their bank details, trading standards officers have warned.
The message then gives a link to a bogus NHS website, requesting their name and address and bank account details, supposedly "for verification".
This is the latest in a series of scams that have been circulating since the coronavirus outbreak, with the UK vaccine roll-out offering fraudsters new opportunities, the Chartered Trading Standards Institute (CTSI) has revealed.
Katherine Hart, lead Officer at CTSI, said: "I have been tracking and warning the public about Covid-19-related scams since the beginning of the pandemic, and at every stage of response, unscrupulous individuals have modified their campaigns to defraud the public.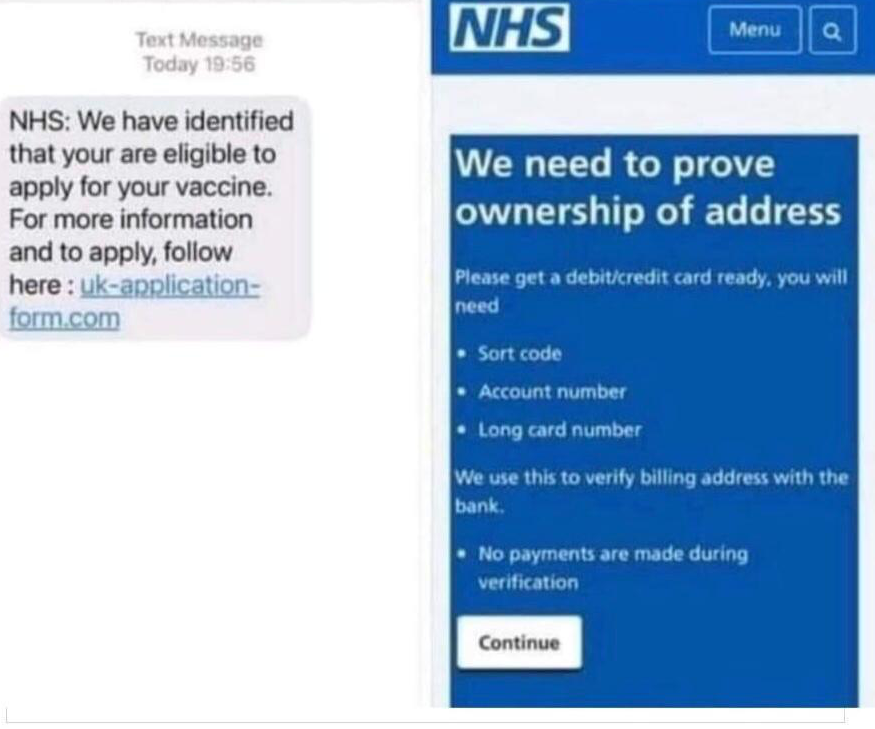 "The vaccine brings great hope for an end to the pandemic and lockdowns, but some only wish to create even further misery by defrauding others. The NHS will never ask you for banking details, passwords, or PIN and these should serve as instant red flags."
Be alert to other scams
This new scam comes in the wake of a meeting of the Work and Pensions Select Committee, where MPs received evidence that fraudsters are using Covid-19 as an opportunity to play on the fears of financially vulnerable people.
Andrew Tully, technical director at Canada Life, who attended the session, says: "The Pensions Regulator also revealed that at least £54 million of lost pension savings were under investigation, involving over 18,000 savers. However, this is likely only to be a fraction of the scale of the problem as many cases will go undetected for years or the victims may feel shame or embarrassment in coming forward.

"The rapid rise of romance scams and using the Track and Trace service only serves to show we all need to be vigilant, scam aware and follow the simple rule of thumb –if it appears too good to be true, it inevitably is," he added.
A recent Canada Life survey found that 5.2 million UK adults (11%) had either fallen victim or knew someone who had fallen for a scam since March with 28% of these relating to pension fraud, 22% linked to insurance scams as the cause, followed by romance scams at 15% and the Government's Track and Trace service, which also had 15% of people reporting this type of scam.
How can you avoid financial scams?
Warn elderly and vulnerable relatives about these scams
Be suspicious of pressure tactics, saying that the deal is limited, and you must act now
Be alert to scammers if you receive an offer to help you access your pension savings before age 55. You can only do this in rare situations – if you are terminally ill, for example.
Ignore phone calls and delete emails or texts from HMRC informing you of a tax refund – HMRC will only contact you by post.
Be wary of unsolicited calls, text or emails offering "amazing investment returns" if you were to take out a lump sum or your whole pension pot.
Report suspected scam to Action Fraud or if in Scotland, contact Police Scotland
Disclaimer: We make every effort to ensure that content is correct at the time of publication. Please note that information published on this website does not constitute financial advice, and we aren't responsible for the content of any external sites.