Thursday is home improvement day on the blog and since summer is in full bloom, we're looking at ways to convert your sheds and outbuildings.
Read our ideas to make your unloved shed a practical and attractive addition to the home.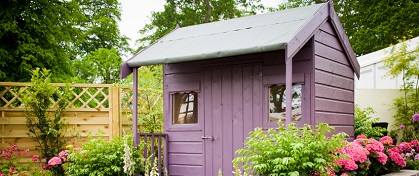 Converting sheds or outbuildings
Sheds and outbuildings can provide you with the space you lack inside your main home. They can also cost much less to convert or build than an attic or full extension.
Another advantage is that building or converting most garden structures doesn't require planning permission. If you are considering building an outbuilding from scratch, this may be subject to some height and size restrictions. If this is the case, be sure to check with your local planning department, or the company who quoted for the job, before work begins.
Pimp your shed
First thing's first – what do you want to use your shed for? If space is limited, you might simply want a clean dry space in which to store some of your belongings. But a shed could be so much more than that too.
You need to start with the basics. If you are considering converting your garden shed and want to get use from it all year, it may need a heat, water and electricity supply. To ensure the work is done properly, you'll need to hire a professional.
Outbuildings are not designed for everyday use, so you'll need to adapt yours to create a dry and warm space. You can do this by nailing wooden batons to the inside walls, and screwing plasterboard sheets on to the batons.
To keep out the cold and damp, add a layer of insulation between the plasterboard and the shed. You should also consider how fresh air can get inside your shed. Adding doors with vents and openable windows is the most practical way to achieve this.
Finally, protect your shed and belongings with a secure door, and contact your insurer to get the necessary home and contents cover.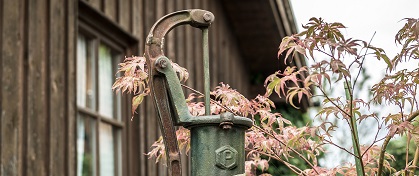 Endless possibilities
You could create a playroom for your kids; a quiet place in which to work; or somewhere to really relax and focus on your favourite hobby. So, your priority before you begin your shed conversion is to decide what you'll use it for when it's finished.
Once you have decided the best use for your shed, set your budget and make a mood board. This helps you bring things that've inspired you like pictures, sketches, and magazine cuttings together on a single sheet. Before you work out how you want to pimp your shed, look at our checklist of questions and ask yourself:
- What will you use your space for, eg. work, a hobby, relaxation?
- How much space does your shed provide?
- What style and look do you want to create, and do you have a specific theme?
- What is your budget?
Below we have created a short list of ideas to help inspire your shed conversion.
Home gym/yoga studio - zen den
If you love the idea of your own exercise room or yoga studio, a shed is the perfect space to house this. You may prefer to train at home or want to save money on gym membership. Alternatively, you could set up your own small yoga club and invite your friends to exercise with you
Tip: Decorate your shed with calm soothing colours and add a large rug to soften the flooring. If the shed is properly insulated, large pieces of linen fabric hung across the internal walls will create a sense of layering and cosiness. Use large textured cushions scattered on the floor to complete this look.
New home office – bright modern retreat
If your employer gives you the option of working from home, the kitchen table can be a very impractical and noisy place to work if you have a busy family life. In contrast, the shed can provide a quiet, bright place for an office away from the day-to-day hustle and bustle of your home.
Tip: Consider creating a good balance of natural and artificial light to help you to work comfortably. Create a look that is tailored to your tastes, and make it a pleasant and inviting space in which to work, whether you'll be doing so every day or just occasionally. If you have files and other office equipment, built-in storage will help you remain organised and make the most of the limited space.
Arts and crafts studio – shabby chic
Arts and crafts is one of the most popular hobbies in the UK, but it can take up lots of space in the home. A large outbuilding would give you the space you need for your pastime. You will need a good-sized smooth working area to do your work on and plenty of light, especially for detailed work. Include lots of storage for the materials you use, and consider a gallery area to display your work for all to see.
Tip: The shabby chic look is great if you're on a budget. You can pick up unloved pieces of furniture second-hand and give them a new lease of life with little more than a fresh lick of paint.
Gaming room – secret den
The shed can be the perfect hideaway if you want to spend time playing on your video console and computer games in peace or with friends. You don't need a very large space for this activity, so this can be a pretty easy shed conversion. Just be sure you invest in secure locks for the door and somewhere safe and waterproof to store your games and consoles.
Tip: Dark colours and soft lighting will set the mood in your games shed, so paint the walls blue, grey or another dark tone. If you have an old armchair you rarely use, you could move it into your shed. Alternatively, try making your own storage seats to save space and tidy away the games.
Disclaimer: We make every effort to ensure that content is correct at the time of publication. Please note that information published on this website does not constitute financial advice, and we aren't responsible for the content of any external sites.