If you've heard the term "adverse credit history", this just means someone has a poor or bad credit history.
It's used as a way to describe people who may have struggled to manage credit in the past.
What is your credit history?
To understand what an adverse credit history is, it's important first of all to understand what your credit history actually is. Every time you take out a credit product – such as a loan, mortgage, credit card or even a current account or mobile phone contract, it is reported to the three credit reference agencies (Experian, Equifax and CallCredit).
Each month, your lenders report to the agencies whether you have made your payments in full and on time. The credit reference agencies hold this data for six years. So, think of your credit history as a metaphorical series of green ticks – up to 72 of them - showing that you've made every monthly payment that is due on time. And then think of that for each product you've got.
So what is adverse credit?
Now imagine that instead of a long line of green ticks, you have some red crosses on your credit history. These could represent:
- Missing or being late on loan, credit card or mortgage repayments.
- Missing or being late on any credit agreements, including pay monthly insurance and even mobile phone contracts.
So every time you are late with a payment, or pay less than you should, your lenders will let the credit reference agencies know and they will hold this for up to six years too.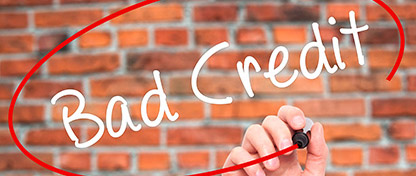 How does an adverse credit history affect me?
When you apply for credit, the lender you have applied to will check your credit history. If you have a good credit history – a line of green ticks if you like – and you meet their other criteria, then they may be happy to accept you. However, if your credit history has too many crosses – missed or late payments – then some lenders may decide not to lend to you, or they may offer you a product but with a less favourable interest rate. This is what's known as having "adverse credit".
You can check your credit history to see exactly what lenders will see. Credit-checking services Noddle and ClearScore are available for free online, and you can find out which we think is best here.
Accessing credit when you have adverse credit
Even if you have struggled with credit in the past, and have got an adverse credit history, it doesn't mean that you won't be able to borrow money in the future. Some lenders specialise in forms of credit suited to people who have struggled with credit in the past – including Ocean.
For example, if you were looking to take out a loan, Ocean offer personal loans for bad credit at 44.9% APR. Whether you need to buy a car for a new job or make some improvements to your home, a personal loan could be used for this. Plus, providing you repay on time each month, your credit history will begin to improve.
Thought about an Ocean personal loan?
Start from £100 - £15,000 - Easy to apply - Loans available from 3 months to 5 years.
Find out more
Taking out any form of credit is a big responsibility, and falling behind on your repayments can be costly and damage your credit history. It's important that you don't borrow any more than you can afford to repay, so make sure you look carefully at your finances before taking any form of credit out.
Disclaimer: All information and links are correct at the time of publishing.