We all know how unpredictable the British weather can be, and it's reasonable to want a little more sunshine in our lives.
This is especially true in the winter months when we often find ourselves holed up inside.
Well, a conservatory might be just the remedy to your aching woes for sunshine. They can also give you some much-needed extra space to your home, and could add as much as 5% to its value.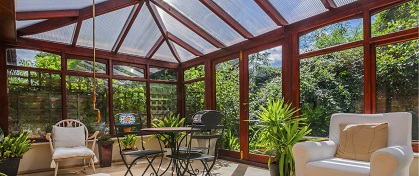 People who live in glass houses…
When it comes to picking the right conservatory for you and your family, you're certainly not short of options. Just which you decide upon depends on your current home and budget.
There are loads of different styles of conservatory, but it might be worth speaking to an expert about which suits your lifestyle. Certain styles will meet your needs over others, and some may not be suitable for the type of property you have. Below, we'll go through some of the more popular options.
Victorian conservatory
This is by far the most popular type of conservatory. It's quite versatile in the sense that it's suitable for pretty much any property type. Regardless of whether your home is a period property or a brand new build, you should be able to accommodate a Victorian conservatory.
The characteristic features of this style include a steep pitched roof, an ornate ridge and a bay front.
Lean-to (or Mediterranean) conservatory
This is also a popular conservatory style, and it's almost always the cheapest. This is because it follows quite a simple design, with clear lines and a rectangular shape. The pitch of the roof on a lean-to conservatory can vary from design to design, so it's a good choice if there's not much space between the ground and the slope of your home's roof.
As the roof on a lean-to conservatory can be flat, or only inclined slightly, it works best for homes with a low roof, and even bungalows.
Orangery
While in many ways an orangery is similar to a conservatory, it's much more of an extension of your home than just an extra room. This is because it usually consists of brickwork in some form, either joining up to your home with brick pillars, or brick walls with a glass roof and/or sliding doors.
Two popular types of orangery designs include:
Tiled roof: This is close to being a lower-storey extension, as it loses the glass roof in exchange for a solid, tiled roof. It retains the glass windows of a standard conservatory.
Lantern roof: This style has solid features, but the centre of the roof is made from sloping glass panels with a solid outer rim.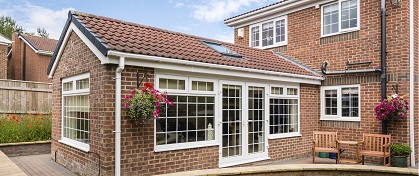 … Should carefully consider the materials
The heat level is one of the biggest issues with conservatories. In the winter, if the building doesn't have adequate heating, your new room will be chilly and unappealing. But in the summer, the greenhouse effect can turn the room into an oven. If you don't address this during construction, you could quickly find you rarely use your conservatory.
Picking the right glass is a good place to start. To keep you cool in the summer, you could consider tinted or reflective glass. This will reflect or minimise the sun's rays, which can help to make your conservatory habitable even on the hottest days. For the winter, thermally-efficient glass is a good investment, as it helps to trap heat. Some of these window styles are double-glazed with a layer of energy efficient gas inside, and others will be given a special coating to trap heat.
Although you will have to spend more for special glass, it's a worthwhile investment, especially if your conservatory will face the sun for a large part of the day. Even if it means you have to put your plans on hold and save for a little longer, it's important that your conservatory is a room you'll be able to use all year round.
You could also keep the temperature down with stone or tiled floorings, but this is down to personal preference, as it may not feel as cosy to you. Or you might consider underfloor heating to keep it warm in winter.
Tip: Blinds are an effective and relatively cheap way to block out the strongest of the sun's rays and keep your conservatory cool. Plus, you'll get a better sense of privacy. It's a good idea to speak to an expert to get blinds custom-fitted for your conservatory, but this will cost more.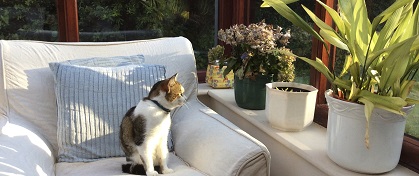 How much will it cost?
Here, just how much you have to spend will vary dramatically depending on certain factors. For example, the size, style, materials and finishing touches you decide on will all play a part in determining the final cost.
You can expect to pay anything between around £4,000 to £10,000 for a standard conservatory, but an orangery is likely to be quite a bit more. A lean-to style conservatory is the cheapest option, but it's not always suitable for all properties.
Final additions like underfloor heating, tinted glass, double-glazing or bi-folding doors may push the cost of your build up quite a bit, but they may be worth it for you in the end.
Tip: Get quotes from at least three sources to give you a roundabout idea of how much things are set to cost, and so you have a greater choice. Some contractors may offer to do the work for cheaper if you let them know you've received a better offer elsewhere.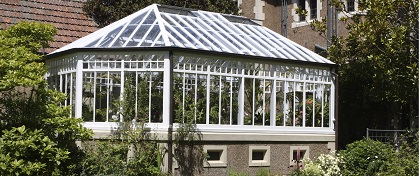 Are there any restrictions?
In many cases, you won't have to apply for planning permission for a conservatory, as they are considered permitted developments. But, there are cases where you might need to apply – such as if your extension is higher than your roof. You can find a list of the conditions via the Planning Portal here.
Like with any new build, it's important that the work passes all the relevant safety regulations. When hiring contractors to do the work, make sure to check past reviews and that they are reputable. If they are going to be extending the central heating or electrics, make sure they are Gas Safe registered or on the list of registered electricians.
Disclaimer: All information and links are correct at the time of publishing.