It always feels good to bag a bargain, but sometimes they take some finding. So we've rounded up the best deals this week to save you time (and money!).
Save up to £53 at selected attractions
Sign up on the Days Out website to receive a 2-for-1 offer and save on entry fees to some of the nation's most popular theme parks, including Alton Towers, Legoland and Chessington World of Adventures. You'll need to travel by train and be able to show your train tickets as well as a printed copy of the deal voucher. You'll save £48 at Chessington and £53 at Alton Towers and Legoland.
You can also get 2-for-1 offers at other attractions including Kew Gardens, Warwick Castle, and Edinburgh Dungeon. See the full list.
Top tip: Even if you're not travelling by train, it might be worth buying two cheap one-way tickets, they could end up costing less than what you'll save! Make sure you calculate this to check, as well as ensuring the final destination is a station near the attraction!
Save £125.45 on the M&S Beauty Bag
If you spend over £30 on clothes, homeware, or beauty products at Marks and Spencer, you'll be eligible to buy their beauty bag for £20. This bag normally retails for an eye-watering £145.45. It contains eleven must-have beauty items including a Nuxe face and body oil, Origins eye cream and an Aveda hair-strengthening treatment (which usually retails for over £20 on its own).
Get this deal by adding it to your basket (along with other items worth at least £30) and the discount will be displayed like below, you'll need to add the code they give you to your basket.
Top tip: If you want this bag, don't hang around - as when stock runs out, there are no more.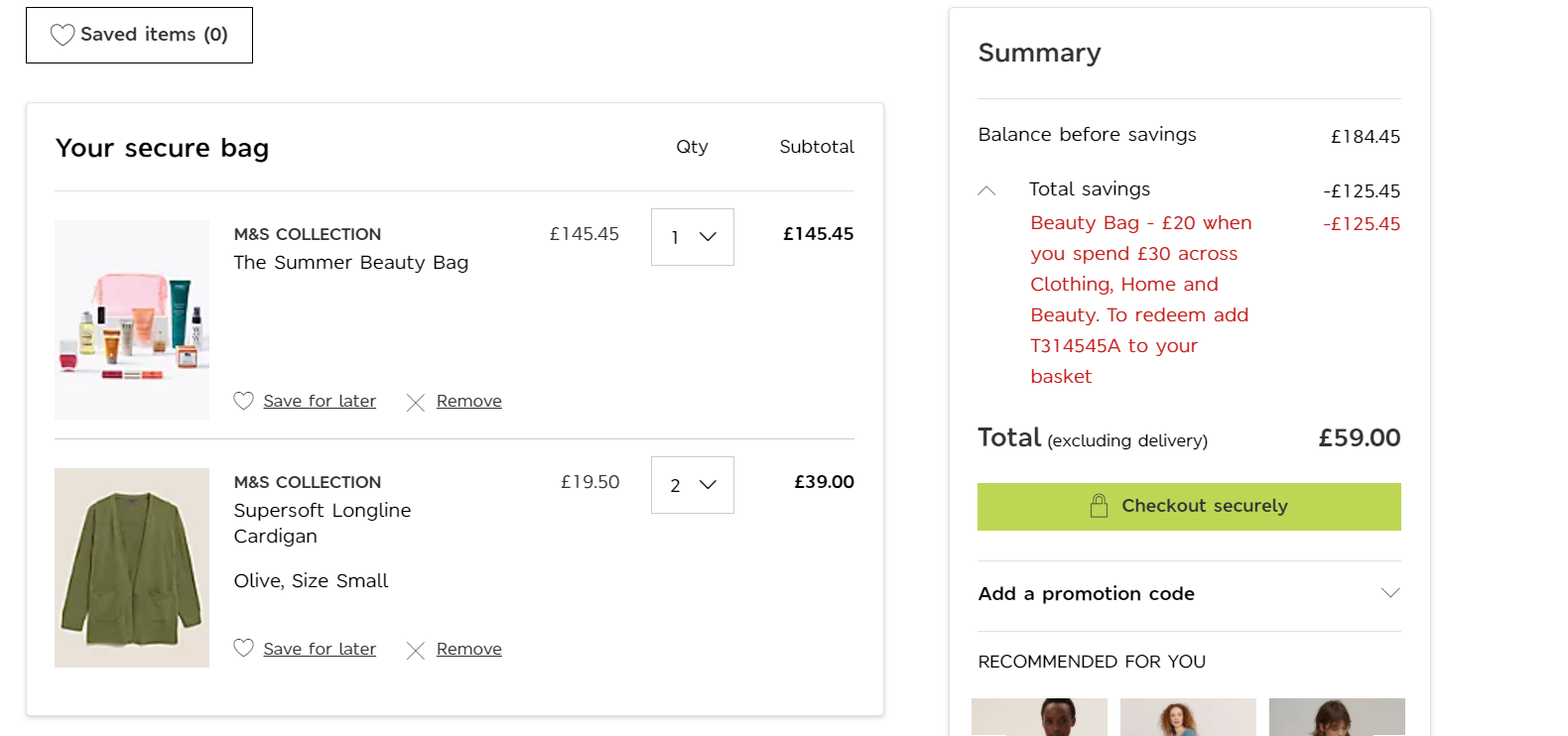 Get 50% off your first HelloFresh food box
HelloFresh is offering a 50% discount to new customers. You can choose from any of their boxes - veggie, meat and fish, family and quick cook. Select a box to feed between 2 and 4 people, and between 3 and 5 recipes per week. If you choose a box for 4 people with enough food for 5 recipes a week (that's a total of 20 meals), it will cost just £32.49 instead of the usual £64.99. Delivery is free too, so you'll save another £3.99. That works out at only £1.62 per serving!
Top tip: If you don't want to continue the subscription, you need to remember to cancel it before midnight on the Tuesday before the next delivery is due.
Check out the B&Q clearance sale
If you're doing some DIY or thinking about getting the garden ready for summer, take a look at the clearance section on B&Q's website. They've got some great offers on, but you'll need to be quick to grab the best ones. For example, you could save £5 on this planter designed to attract bees, or over £100 on a Rockwell charcoal and gas barbecue.
Top tip: If the item you're interested in is out of stock at your nearest store, try other stores in the area.
Save 20% on takeaways with Just Eat
If you're feeling peckish on a Tuesday, treat yourself to a takeaway and enjoy a 20% discount. This offer is only available at selected restaurants (on Tuesdays) and is subject to a minimum spend of £15.
Check the Just Eat website to find out where you can use this offer.
Browse for bargains in the Amazon warehouse
When items are returned to Amazon they don't always go back for sale at the original price. If they've been slightly damaged or the box has been opened they might be put up for sale in the warehouse section. For example, the Oral-B Vitality Plus toothbrush is usually on sale for around £30, but it's currently available in the warehouse for £18.58 just because the box has been opened. Read the description of each warehouse item, as it will tell you why it's discounted and its condition.
If you fancy yourself a bargain hunter, find out what time items are reduced at your favourite supermarket or how many of these money-saving household hacks you already know.
Disclaimer: All information and links are correct at the time of publishing.
BACK TO BLOG HOME