Okay, so you've checked your credit score… but how does it compare to your neighbours?
Each credit reference agency has its own scale and method for determining your credit score. These three credit reference agencies have published the average credit scores across the country: with Experian is 757; with ClearScore, it's 380; and with TotallyMoney, it's 329. Average credit scores are also published by city, so see how you measure up locally.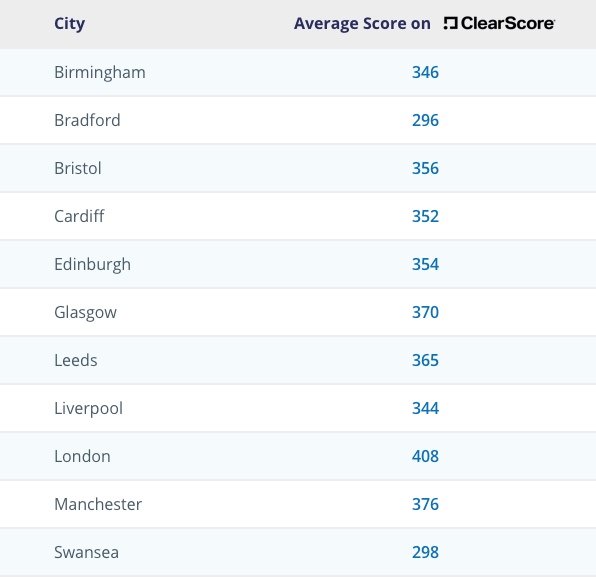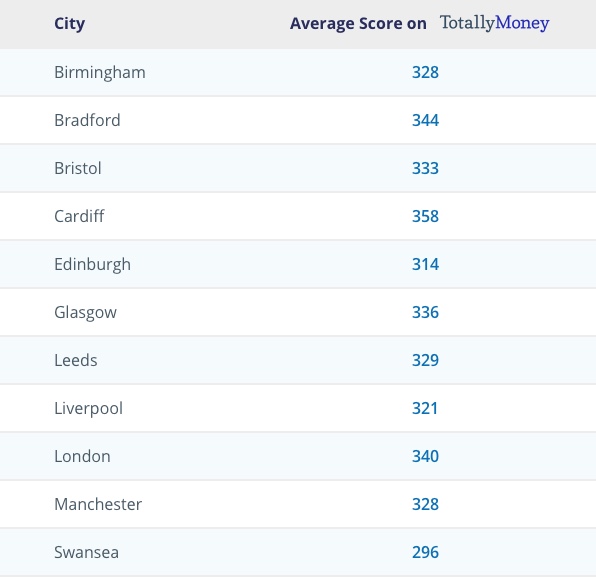 If your city isn't listed above, why not compare yours against the national average? The average credit score with Experian is 757; with ClearScore, it's 380; and with TotallyMoney, it's 329.
What's a credit score?
Your credit score is a three-digit number which is calculated by the credit reference agencies. They decide whether to give you a high or low score based on the personal and financial information in your credit report.
Now, you may not know this… but there is no such thing as a universal credit score. Each credit reference agency has its own scale and method for calculating your credit score. For example, Experian's scale ranges from 1 to 999… Equifax's is from 1 to 700… and CallCredit's is from 1 to 710. This means your credit score is likely to be different depending on which agency you use (as will the average credit score).
Below are three tables showing the average credit score by area from three credit reporting services (Experian; ClearScore who use Equifax; and TotallyMoney who use CallCredit). So if you check your credit score through Experian, look at their table to compare the averages against yours… and so on.
How can I improve my credit score?
There are many things you can do to improve your credit score… here are just a few tips:
1) Check your credit report for mistakes, such as incorrect personal information, credit balances or account details. You can get them fixed by reporting them to the credit reference agency or by contacting your lender directly.
2) Don't apply for credit too frequently. Every time you do, it could be conducting a hard credit check against your name and too many of these could affect your credit score.
3) Register to vote at your address. This alone could improve your credit score by up to 50 points (based on Experian's point system).
4) Make all your payments on time, regardless of if it's a phone contract, utility bill or loan. This could improve your credit score over time.
Don't know what your credit score is? Find out how to check it for free!
These statistics are based on research from TotallyMoney (2017), Experian (2016) and ClearScore (2016). This is just a guide and today's average credit scores for each area may be slightly different.
Disclaimer: We make every effort to ensure that content is correct at the time of publication. Please note that information published on this website does not constitute financial advice, and we aren't responsible for the content of any external sites.