If you've reached the stage in your relationship where you're considering moving in together, it pays to make sure you know what to expect.
We hope you'll find some useful information in this guide on handling the moving in process, as well as engagements and weddings – just in case they're on the horizon too!
The big move
Mortgages: The Basics part 1
Now you're planning on moving in together, you'll probably be considering getting a mortgage too. This is likely to be one of the biggest financial commitments you'll ever make, so it's wise to know the ins and outs, to make sure you get the right deal for you. Here we introduce you to the basics.
The costs to consider when you're moving house
Whether it's you, your partner or both of you moving out, there are numerous costs you're going to have to pay. Do you know what they are? If not, this blog post is for you. We'll give you a handy rundown of all the possible fees you might have to pay out.
Lessons to learn from homeowners who regret buying their homes
Did you know that one in ten people regret buying their home? If you find that a surprise, you should really take the time to read this blog before you put in an offer!
7 top tips when buying a repossessed property
Buying a repossessed property could be a way to get a property that would usually be above your budget. But, it's not always an easy route to take. If you're considering purchasing a repossessed home, reading these top tips could be a good place to start.
Managing finances when you move in with a partner
Moving in with your partner means you'll have to look at how you intend to pay your bills. Things like your rent/mortgage, utilities and food shopping are important and need to be paid on time, every time, so deciding on who pays what before you take the plunge is a good idea. Whether you decide to get a joint account or you prefer to remain independent, discussing money with your partner will take some getting used to, especially if you haven't been financially linked before. Here we hope to prepare you with a few tips.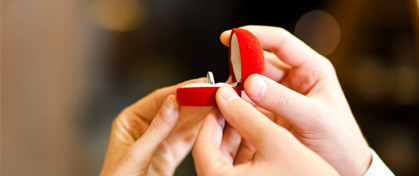 Getting serious
Thinking of tying the knot? Then these blogs might offer you some food for thought. If you're not, feel free to skip!
When is it official?
What signals to you that your relationship is official? Is it when you start introducing them to your family? How about when you move in together? Research conducted for us revealed that these are the moments many of us think signal an official start to being a couple. But, one in four of us also think merging your finances is when the relationship really starts to get serious.
The complete survival guide to getting engaged
Getting engaged should be a hugely exciting time, but it's likely to be an expensive one too, especially if you're the one planning to propose! Here we hope to take some of the stress out of popping the question, with our complete survival guide, holding your hand through each step – from buying the ring to getting down on one knee.
A complete survival guide to getting married
If you've proposed and your other half has said yes, the next area of focus is on the wedding itself. There's a lot you might be thinking, or even worrying, about. In this second survival guide, we discuss how much a wedding can cost, ways you might be able to pay for it and some of our top wedding do's and don'ts to help you have the perfect day.
Disclaimer: All information and links are correct at the time of publishing.